Justine Kish debuts against Nina Ansaroff at UFC 195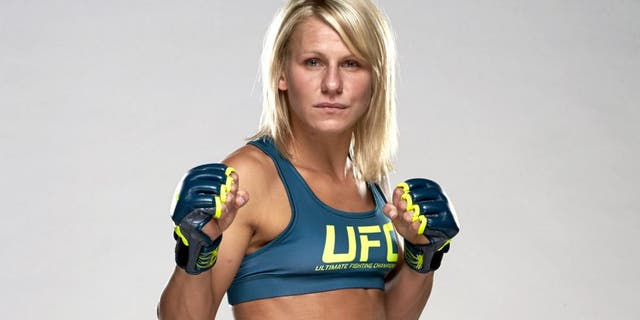 LAS VEGAS, NV - JULY 3: Justine Kish poses for a portrait during the TUF 20 Media Day session at the TUF gym on July 3, 2014 in Las Vegas, Nevada. (Photo by Esther Lin/Zuffa LLC/Zuffa LLC via Getty Images) Esther Lin/Zuffa LLC
Following an injury that kept her from competing on "The Ultimate Fighter" season 20, Justine Kish will make her long-awaited debut at UFC 195 on Jan. 2 when she faces Nina Ansaroff in a strawweight bout on the card.
The fight was announced via "UFC Tonight" on Wednesday.
Kish was one of the dark horse favorites to do well on the reality show when she was selected for the season that helped determine the first ever UFC strawweight champion.
Unfortunately, a knee injury derailed Kish from actually taking part in the fights while she underwent surgery to repair damage that would allow her to return to action.
Now more than a year after the show filmed, Kish is finally healthy and ready to fight again.
Ansaroff will also be returning from a long layoff after her only appearance in the UFC in 2014 where she lost a decision to Juliana Lima.
The American Top Team fighter is still expected to be a top prospect at 115 pounds after winning five bouts in a row by either knockout or submission to earn her spot in the UFC.
Kish vs. Ansaroff is the latest edition to the UFC 195 card headlined by the welterweight title fight between champion Robbie Lawler and top contender Carlos Condit.