Justin Haley sails to first K&N Pro Series East win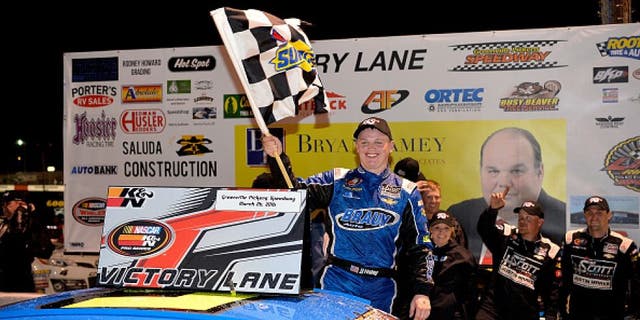 Justin Haley was patient all night at Greenville (S.C.) Pickens Speedway.
Until he could wait no longer to make his winning move.
Then the 16-year-old from Winamac, Indiana, cleared the dominant car of Kyle Benjamin with seven laps to go and sailed to his first career NASCAR K&N Pro Series East victory.
It was Haley's 23rd career NASCAR K&N Pro Series start. He nearly picked up the win in Phoenix last fall in the K&N Pro West, but late contact while leading cut a tire and ended his night six laps short of the win.
Saturday on the flat half-mile in Greenville, Haley ran second most of the night before making his late move.
Benjamin finished second, followed by Ronnie Bassett Jr., championship points leader Spencer Davis and Dillon Bassett.
Benjamin, from nearby Easley, South Carolina, was fastest in practice and winner of the 21 Means 21 Pole Award presented by Coors Brewing Company. He led a race-high 122 laps. Haley used lapped traffic to wrestle the lead away early in the race. But Benjamin took it back just before half-way and led until the closing laps when Haley edged by him to claim the checkered flag.
Reid Wilson finished sixth, followed by Noah Gragson, Tyler Dippel, Kaz Grala and Hunter Baize. The race was slowed just twice by cautions, including the halfway break.
Davis maintained a three-point lead over Benjamin, while Haley moved into third. Haley is one point behind Benjamin and one ahead of teammate Dippel. Ronnie Bassett rounds out the top five in points.
The NASCAR K&N Pro Series East will be back in action on April 16 with the PittLite 125 at Bristol Motor Speedway. Benjamin is the defending race winner.