Jurgen Klopp wants to inject passion into Liverpool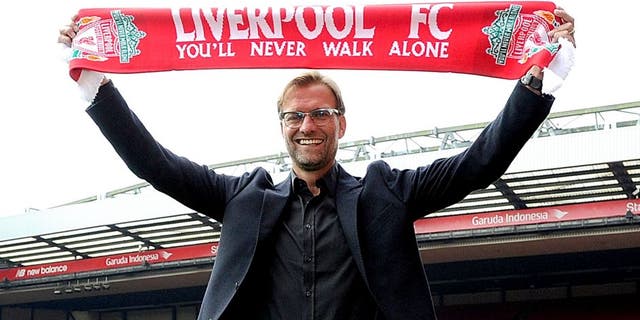 NEWYou can now listen to Fox News articles!
LIVERPOOL, England --
Renowned for being flamboyant and emotional, Jurgen Klopp is ready to inject some of that passion into the Liverpool team.
Klopp has signed a three-year deal to take over as manager from Brendan Rodgers, who nearly led the team to the Premier League title two seasons ago but struggled since.
''We have to change from doubters into believers,'' Klopp said Friday at Anfield in his first news conference as Liverpool manager. ''It will be full throttle football.
''It is important that players feel the difference from now on. It is important we play our own game and feel the trust of the people.''
Rodgers, who was fired last weekend after three years at the club, faced frequent criticism for his record in the transfer market during his tenure at Liverpool. The club uses a transfer committee to identify and pursue players, a policy Klopp said he is happy to continue with.
Klopp won two Bundesliga titles in seven seasons with Borussia Dortmund. He also won one German Cup and reached the Champions League final in 2013 before leaving in May.
He will try to return Liverpool to the Champions League as well as leading the club back to domestic success. The last of Liverpool's 18 league titles came in 1990.
''Twenty-five years is a long time,'' Klopp said. ''History is the base for us. It is time to start a new way. I'm not only here because LFC was calling, I believe in the potential of the team.''
Klopp's first game as Liverpool manager is on Oct. 17 against Tottenham at White Hart Lane. Liverpool is 10th in the Premier League with 12 points from eight matches.