Junior Dos Santos: I'd knock Fabricio Werdum out again, quickly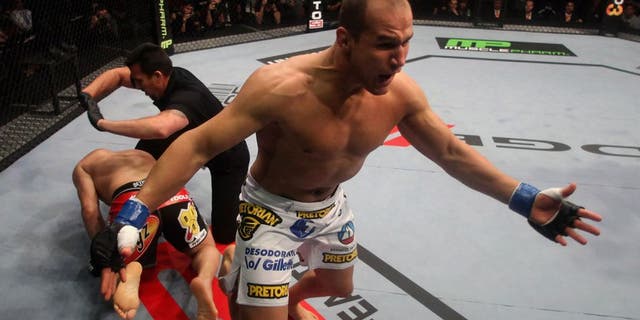 Back in 2008, Junior dos Santos knocked out Fabricio Werdum. JDS would go on to become UFC heavyweight champion years later.
Now, Werdum is the division's king and Junior is on the march back towards another title bout. "Cigano" believes that if he gets his hands on Werdum again, he'd beat him with ease.
"I would knock him out pretty quickly," he recently told Submission Radio.
"He got better. He's a better stand-up fighter now. His jiu-jitsu is the best in the heavyweight division. There is no doubt about that. But as a striker, he improved a lot, but he's still a jiu-jitsu fighter, man. If I fight him, I'll knock him out pretty fast -- maybe in the first or second round again."
Werdum, a Brazilian jiu-jitsu champion, has been praised for his improvement with his stand-up striking in recent years. Junior admits that he looked improved on the feet against Cain Velasquez, but insists that he isn't impressed.
"I was watching his fight against Cain Velasquez and when he became the champion. Man, I can see he's doing a little better on his stand-up game, but just a little better," he laughed.
"He's still a jiu-jitsu fighter. Talking about stand-up striking, I really believe and I'm very confident that I could knock him out again."
Werdum defends his title against Stipe Miocic next month. Dos Santos seemed to lean towards favoring Miocic in the matchup, and said it may favor him, personally, if the challenger pulls it out.
Dos Santos has a close decision win over Miocic in 2014. "I'm feeling that if Miocic wins it's better for me," he said.
"Because man, Werdum all the time, he starts to talk too much and he takes so much time to fight again, you know? And starts to do a lot of things without [fighting], but not like defending his title. So I think if he [Werdum] wins the fight, you know, it's gonna be good to face him, but I think it's better for me if Miocic wins."