Junior Dos Santos: I hope Alistair Overeem doesn't fail the drug test this time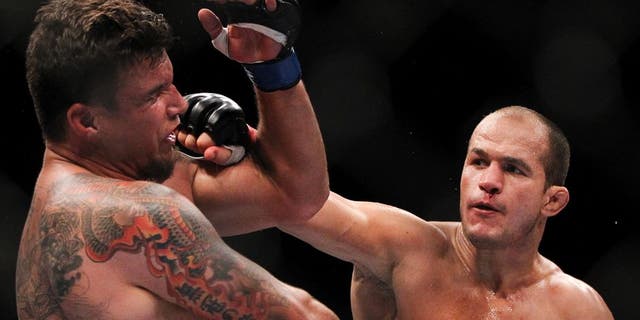 Alistair Overeem has called out former UFC heavyweight champion Junior dos Santos multiple times over the past years, even insulting the Brazilian in the process. Thing is, though, the two have been set to fight one another twice before and it was Overeem who pulled out both times and forced the bout to be cancelled.
Before UFC 160, Overeem was forced to drop out of a scheduled fight with Dos Santos due to injury. Before UFC 146, however, Overeem failed a pre-fight drug test with extremely high levels of testosterone in his system. The fight was squashed because of that, and the Dutchman had to serve a suspension.
None of that has stopped Overeem for calling for the fight, loudly, however. He's finally got his wish as the two are set once again to face each other Dec. 19 in Orlando. As always, the matchup sits just fine with the former world champ, Dos Santos.
"I don't choose opponents, but I'm not gonna lie -- it will feel great to shut this guy up," he posted recently on Instagram, according to a translation from Guilherme Cruz.
"Cigano" just has one hope, leading into the fight -- that it actually happens this time. "I hope he doesn't fail the drug test this time," he continued.
Dos Santos last fought in Dec. 2014, when he won a controversial unanimous decision after a fantastic battle against Stipe Miocic. Before that, he lost via TKO in Oct. 2014 to then-champion Cain Velasquez.
Overeem is currently riding a two fight win streak. He last fought and won against Roy Nelson, via unanimous decision in March.