Julio Teheran plunked Jose Bautista in first at-bat after contentious bat flip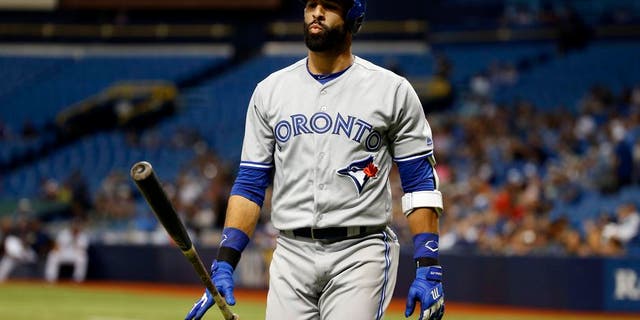 The Atlanta Braves and Toronto Blue Jayspicked up where they left off on Thursday, following a benches-clearing incident the night before.
Braves pitcher Julio Teheran drilled Blue Jays slugger Jose Bautista during his first at-bat of the night, hitting him in the thigh with a 96 mph fastball.
It was the ninth time a player has been hit in the series and comes on the heels of a Bautista bat-flip the night before that led to both sides clearing the benches.
Tensions were high throughout Atlantas 8-4 win on Wednesday. There was the fifth-inning pitch that hit Braves first baseman Freddie Freeman on the left wrist (and could sideline him for 10 weeks), then a seventh-inning shouting match between Kevin Pillar and Jason Motte also emptied the benches and led to a two-game suspension for Pillar after he admitted shouting a homophobic slur at Motte.
But Thursday night didn't escalate after the first inning beaning of Bautista. He took his base and later scored the first run of the game. The Blue Jays went on to batter Teheran and cruise to a 9-0win, their first in their four interleague games against the Braves this season.