Julianna Peña: My focus is not on Ronda Rousey, it's on Jessica Eye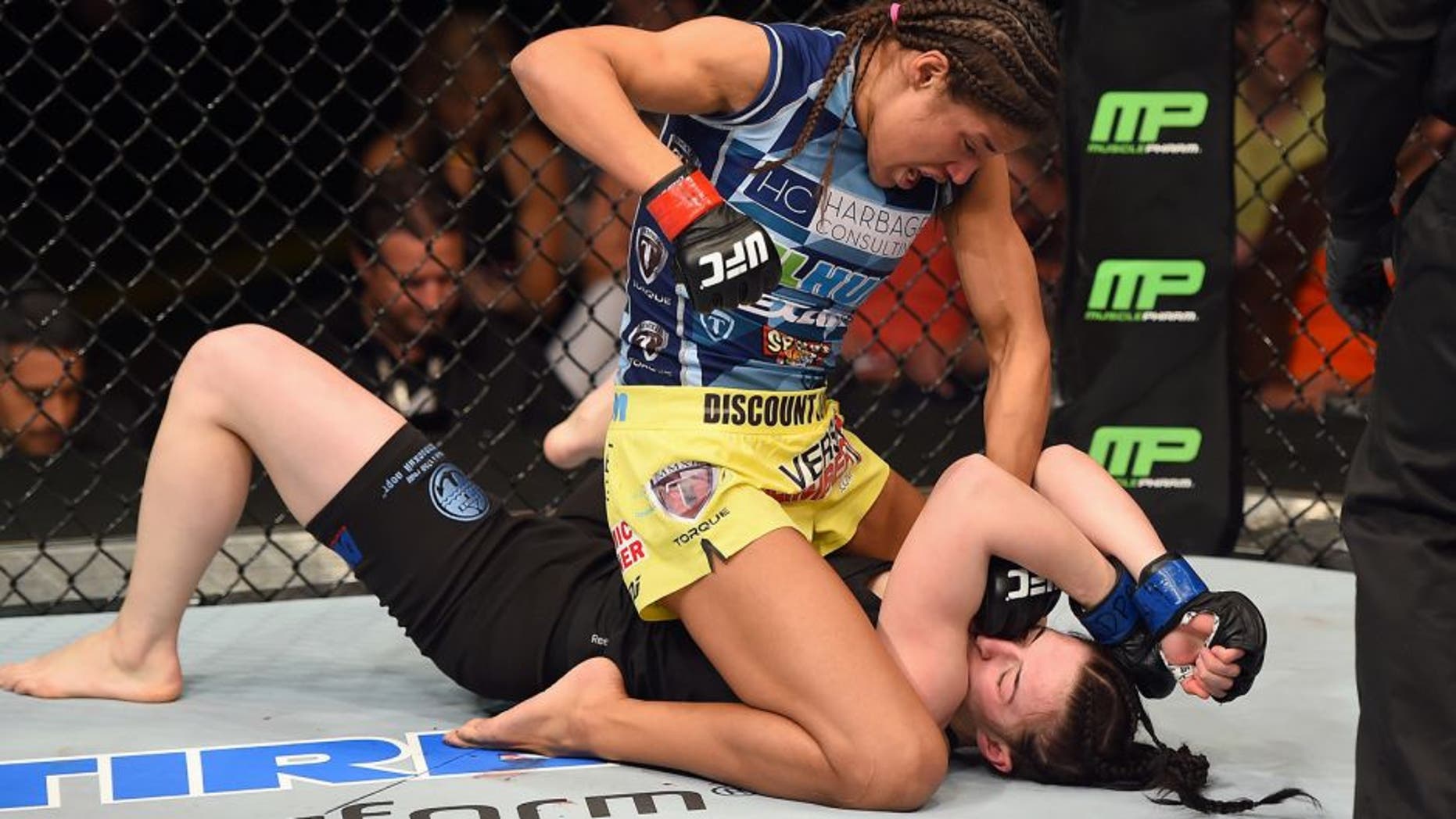 Former 'Ultimate Fighter' winner Julianna Peña might only be a couple of fights away from a showdown with bantamweight champion Ronda Rousey, but she's not going to be the one to tell you that.
Peña doesn't pay much attention to rankings or the buzz that she might be one of the only tests Rousey has left in the division after running rampant through almost every other contender at 135 pounds.
Truth be told, Pena is so focused on her upcoming fight against Jessica Eye at UFC 192 that anything Rousey-related has just faded into the background and will remain there until she has her hand raised in the Octagon on Saturday night.
"I've been instilled by my parents to always have a hard work ethic and to always earn everything that you have. Nothing in this world is free and nothing is given to you," Peña told FOX Sports recently. "At least it has never been for me. I've never wanted to jump the gun and talk crap to get a title shot. I also never wanted to rush that. I always felt like when the time is right, it will come. I've been trying to work my way to the top since I got to 'The Ultimate Fighter'and I think that's the way that it should be.
"I feel like when I fight Ronda, it will have been earned and it will have been built up and it's something that people want to see. I look forward to that fight one day, but what I really look forward to is fighting Jessica Eye on Oct. 3 and focusing all my energy on her. None of these girls are easy and it's my job to never underestimate them."
Peña will face Eye in only her third fight in the UFC and second fight since winning "The Ultimate Fighter" season 18. It's a fast rise to face a top 10 opponent that quickly, but then again everything Peña has done in MMA has been accomplished in a rather short amount of time.
While fighters like Rousey were winning judo tournaments before reaching their teenage years or Sara McMann wrestling as a grade schooler, Peña didn't even know she was going to be a fighter until well after her own high school graduation.
"I threw my first punch when I was 19 years old and I walked into a women's cardio kickboxing class and that was the first time I ever did anything related to combat sports. I grew up playing basketball, soccer, softball and tennis but I had never done anything with combat sports before," Peña revealed.
"I think the thing that sets me apart from all the other girls is let's say Ronda's been doing judo since she was like 3 and been woken up by her mom giving her armbars and she was a world champion. Miesha's (Tate) been wrestling since she was knee high to a pig's eye. These girls got black belts in tae kwon do and karate and they specialize in boxing and they do all this stuff since they were kids."
Peña's upbringing in the sport was strictly doing MMA and while she's gained a reputation for having a fierce wrestling game with some of the nastiest ground and pound in the division, she's actually just as good on her feet -- you just don't know it yet.
"When I started MMA, I learned the ground and the wrestling and the jiu-jitsu at the same time I was learning the boxing and the Muay Thai. So wherever the fight goes, I feel comfortable and I'm a more well-rounded fighter than most of these girls," Pena said. "If it goes on the ground, I'll fight you the ground. If we're on the feet, I'll fight you on the feet. I'm comfortable wherever the fight is."
Peña is never going to shy away from what gives her the best opportunity to win a fight and if that means her next 10 victories all come on the ground, so be it.
She not worried as much about where the fight ends as much as the fact that it ends with her hand raised and whether she's taking on the best strikers at 135 pounds or the greatest wrestler to ever step foot in the Octagon, they are going to know they are in for a fight when signing the dotted like to face Julianna Peña.
"I have knocked out people with my head kicks, I have knocked out people with my fists and I've finished fights with TKO's on the ground. I know people want to peg me as a one-dimensional fighter, but I have never felt that way about myself. I've always been confident wherever the fight goes," Peña said.
"I may not have all the credentials with gold medals and black belts, but these girls are going to know they are in a fist fight with me."
The same can be said for her upcoming fight against Eye on Saturday night.
Peña has seen Eye's fast hands at work in some of her previous UFC bouts and she knows the Cleveland native is going to challenge her boxing from the moment the referee says go. Whether the fight stays on the feet or crashes down to the ground, Peña wants Eye to bring everything she has to the Octagon on Saturday night because she's going to need it.
"The Octagon is my home," Peña said. "Wherever she wants to take the fight -- come with it."