Julianna Pena gunning for Ronda Rousey after win at UFC 192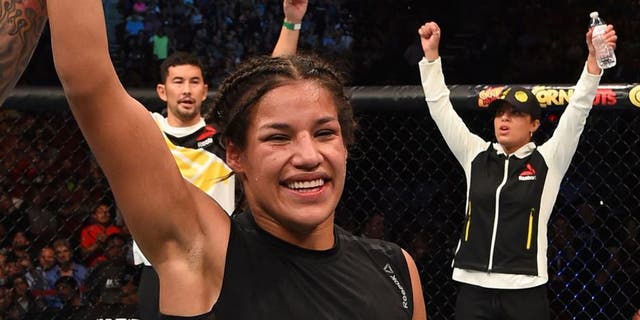 NEWYou can now listen to Fox News articles!
Former "Ultimate Fighter" winner Julianna Pena didn't want to address bantamweight champion Ronda Rousey prior to her fight with Jessica Eye at UFC 192 because she wanted to stay focused on the task at hand.
Pena got the job done with a unanimous decision nod over Eye to pick up her first win over a top-10 opponent, and when she was given a chance to speak after the fight, it didn't take her long to bring up Rousey's name in the conversation.
"I'm 6-0 in the Octagon and so is Ronda Rousey. Dana White keeps calling her Mike Tyson, well, I'm Evander Holyfield," Pena stated.
Following the end of the show at the post-fight press conference, Pena discussed a possible fight with Rousey once again when the subject of her next fight came up.
In the past, Pena has said that a fight with Rousey was inevitable, but it seems like she's hoping destiny comes sooner rather than later.
"Why not look too far ahead? I did not get in this sport to be at the bottom [of the] roster. I got in this sport to let the world know that I'm the toughest 135-pound female fighter in the world," Pena said. "I'm 6-0, Ronda's (Rousey) 6-0 (Editor's note: Rousey is 12-0 as a pro), I don't think it's out of the realm of possibility so I'm looking to get a title shot.
"Jessica Eye, after her loss to Miesha Tate, if she would have won she would have been next in line for a title shot, so why not me?"
Obviously, Pena will have to wait on the outcome of the upcoming fight between Rousey and Holly Holm at UFC 193 in Australia on November 14, but putting her in the next title fight could happen.
Pena is now 3-0 in her UFC campaign (along with three more wins on the reality show that don't appear on her official record) after winning "The Ultimate Fighter" where Rousey served as the coach for the opposing team.
Pena also stands as one of the only prospects left in the rankings who Rousey hasn't already faced, so a potential title fight showdown between the two bantamweights in 2016 is a definite possibility.