Julianna Pena beats Jessica Eye, calls out Ronda Rousey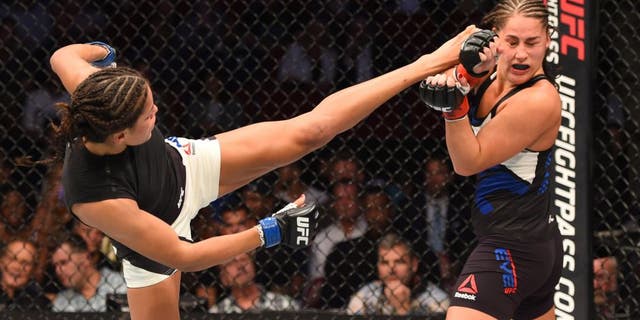 NEWYou can now listen to Fox News articles!
Julianna Pena continued her push towards a potential title shot with a unanimous decision victory over Jessica Eye and immediately took aim at Ronda Rousey following the win.
The former "Ultimate Fighter" winner is one of the top prospects at 135 pounds and she showed why she might land a fight with Rousey sooner rather than later as she displayed a stifling and powerful ground game to beat the Ohio native over three rounds.
Pena was able to wrestle Eye to the ground a couple of times in the first round after the two fighters engaged in the clinch for the biggest part of the five minutes in the Octagon.
The second takedown gave Pena her most advantageous position where she landed in side control and worked inside with short punches and elbows until the round came to an end.
Eye came back big in round two when she caught a kick from Pena and took the fight to the ground where she advanced position and nearly locked up an arm triangle choke.
Pena eventually reversed positions but in a scramble on the ground Eye tagged her opponent with a knee strike that glanced off her jaw. The referee paused the action and restarted the fight on the feet, but also took a point away from Eye for the illegal infraction.
As soon as round three started, Pena quickly took Eye to the mat and fought out of a reverse triangle before applying a rear-naked choke attempt of her own. Eye found a way to twist and turn her way out of the hold, but Pena remained in control.
Pena looked for a guillotine choke as well just before the round came to an end but the final horn sounded before she could put Eye away.
Once the fight was over, the judges all returned the same score with 29-27 across the board with Pena sealing the deal by unanimous decision.
The victory is definitely the biggest of Pena's career as she picks up her first win over a top 10 opponent and now moves to 3-0 in the UFC. Pena wasted no time following her win to take a shot at bantamweight champion Ronda Rousey, who fights next at UFC 193 in November.
"I'm 6-0 in the UFC and so is Ronda Rousey," Pena said. "Dana White calls her the Mike Tyson of MMA -- well I'm Evander Holyfield. I'll be your huckleberry."