Judge to Johnny Manziel: Stay away from your ex-girlfriend
A judge in Dallas told Johnny Manziel in no uncertain terms Thursday that the ex-NFL quarterback could not contact his girlfriend in any way, a condition of his bond.
"You can't call her, can't text her, can't email her, can't send her any letters or go to where she's at,'' Dallas County Judge Roberto Cañas told the football star, who made his first court appearance in his assault case. The judge also said Manziel could not keep any firearms.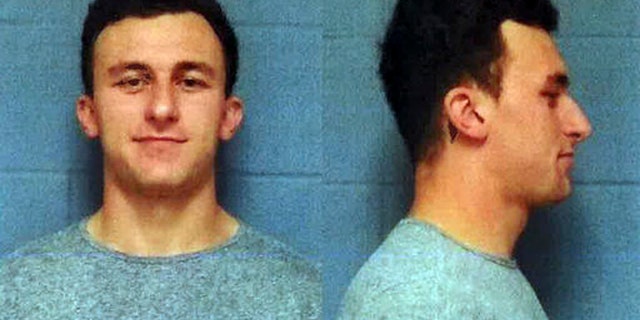 The 2012 Heisman Trophy winner, former Cleveland Browns quarterback and Texas A&M star was polite, wearing a suit and answering "yes" or "no" to the judge's questions. Afterwards, he waded through a crowd of reporters, ignoring questions and even an autograph request.
Manziel, 23, reported to a Dallas-area jail for booking and a mugshot on Wednesday. He was indicted by a grand jury last month after his ex-girlfriend Colleen Crowley claimed he hit her and threatened to kill her during a night out in January.
Manziel faces a Class A misdemeanor that carries up to a year in jail and a $4,000 fine. The free agent quarterback, without an agent and no apparent prospects for signing with another team, is a long way from the field with NFL offseason workouts starting soon.
No plea was entered, but attorney Robert Hinton said Manziel plans to plead not guilty. A status hearing was set for June 24.
Asked what outcome he expected in the case, Hinton said, "Everybody would kiss and make up."
Cleveland took Manziel 22nd overall in the 2014 draft, and the Browns cut him in March after two tumultuous seasons marked by inconsistent play and off-the-field headlines about his partying and drinking, including one stint in rehab.
Since the 2015 season ended, Manziel has been dumped by two agents after both demanded a second trip to rehab, and he also faces potential punishment from the NFL. The league has tougher standards regarding domestic violence cases after revising its policy in August 2014 following the Ray Rice case.
Cowboys owner Jerry Jones never made a secret of his desire to have Manziel on his roster, going back to the night the former college star from Texas was still on the board when the Cowboys drafted in the first round in 2014.
"I don't have sense of how I feel right now there other than just I really like him," Jones said last weekend during this year's draft. "He really did do something special for A&M football and for all of us. We will worry about the future later as far as I'm concerned."
The allegations in the domestic stem from a night out on Jan. 30. Crowley alleged Manziel accosted her at a Dallas hotel, a confrontation that continued downstairs to the valet station. She said he forced her into a car and a valet disregarded her pleas for help.
The two eventually drove to where her car was parked in front of a Dallas bar, she said in an affidavit. She said Manziel got into the driver's seat and began to drive. Crowley said Manziel stopped when she tried to jump out of the car, but then he dragged her back inside and hit her.
Fox News' Casey Stegall and The Associated Press contributed to this report.