Juan Uribe 'real iffy' to make Mets' NLDS roster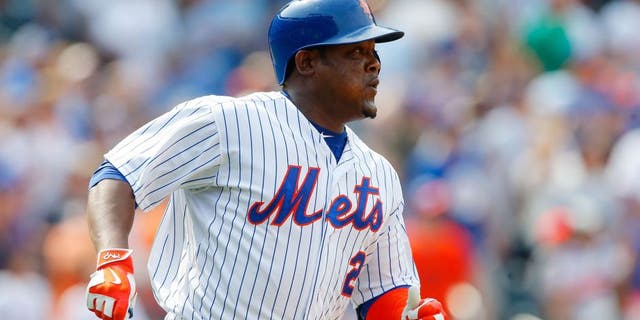 NEWYou can now listen to Fox News articles!
Before there was Yoenis Cespedes, veteran infielder Juan Uribe was the New York Mets' catalyst, but now it appears as though they will have to look elsewhere to find a spark in a pinch.
With the NLDS beginning on Friday, manager Terry Collins revealed that Uribe is very doubtful to make the roster for the series, calling his probability "real iffy."
"He is still unable to do any physical stuff," Collins said. "We're going to see where he is on Tuesday and Wednesday, to determine if he stays here with the hospital group and continues to get therapy. If he's ready to do some baseball-activity stuff, he'll probably need to go to Florida. But that has been undecided at this time."
Uribe, who hit .219/.301/.430 with six home runs and 20 RBI in 44 regular-season games after being acquired by the Mets on July 24, currently has a chest contusion that he sustained two weeks ago while diving for a groundball and aggravated a few days later in a pinch-hitting at-bat.
The 36-year-old infielder, who began the season with the Dodgers, the Mets' NLDS opponent, had an immediate impact on the team.
They won the first three games in which he played as Met, including a walk-off hit in extra innings in only his second game with the team.
Despite his likely inactive status for the NLDS, Uribe is known to be a key clubhouse figure and has won two World Series in his 15-year career.