Juan Carlos Osorio must rely on his keen eye for detail to succeed with Mexico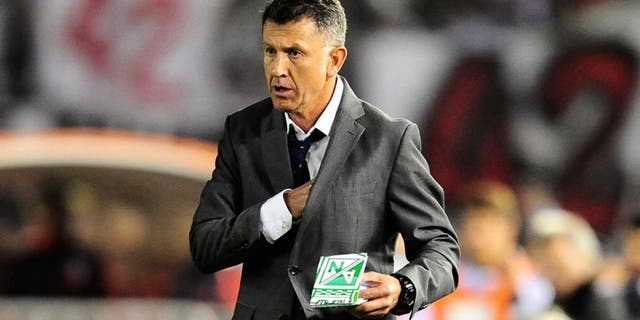 NEWYou can now listen to Fox News articles!
LOS ANGELES --
Everything starts with the notebook. Juan Carlos Osorio carries it around as he proceeds with his duties. From time to time as he paces the sideline, he opens it to glance through his scribbles or write something down as he observes the match. It serves as his constant companion, the bedrock of his thoughts as he navigates through his duties.
It is a useful tool for Osorio, but it is more of a symbol of his approach to management. He is careful. He is detailed. He is technical. Those qualities fueled his rise from a conditioning coach with the Staten Island Vipers around the turn of the century to the perch he just departed at Brazilian giants São Paulo on Tuesday.
Osorio is now the overwhelming favorite to take charge of the Mexican national team after the CONCACAF Cup playoff against the United States on Saturday (live, 8:00p.m. ET, FS1, FOX Sports GO). São Paulo said Osorio planned to take the Mexico job in a statement announcing his departure, but the FMF said the two parties had not yet agreed to terms on his potential appointment. It is expected that the FMF and Osorio will reach terms to confirm him as the new coach next week.
The decision to leave São Paulo now offers a glimpse of the pragmatism Osorio needs to survive the challenges ahead. Osorio knows the sack always looms just a couple of poor games around the corner. Brazilian clubs change coaches with impunity. His decision to engage in protracted talks with the FMF represents a chance to move ahead of the curve and engineer a soft landing.
Make no mistake: the Mexico job is an enticing one from a technical perspective. This group of players performed well under Miguel Herrera at the World Cup last summer. There is top-end talent in the squad with considerable depth and quality in the attacking third. There are few better jobs in the Americas, even with the machinations behind the scenes with the powerbrokers within Liga MX and the FMF and the rampant instability in this perch.
Osorio is intelligent enough to grasp the peril and the potential of the assignment, but he must approach it carefully and diligently given his limited track record in Mexico and his relatively low profile.
At this point, Osorio's brief spell in charge of Puebla back in 2012 matters more than his rampant success at Atlético Nacional (three titles, two cup wins and a place in the Copa Sudamericana final last year). It is the initial framework for his time with Mexico in the eyes of his new constituency. His fleeting spell with Puebla establishes a rather scant and unimpressive foundation. He must build upon it quickly in order to buy himself some time to implement his grander plans.
Osorio's tactical flexibility provides him with necessary latitude as he runs the rule over his potential options. He is not necessarily wedded to one system or another. He adjusts from game to game and from situation to situation. He details his instructions in painstaking fashion and tinkers incessantly in search of incremental gains. Those particularities played a part in his MLS demise -- his tactical focus simply didn't suit a league predicated on identifying the top players and implementing a simple structure to bring out the best in them -- after stints with Chicago Fire and New York Red Bulls, but they served him well during his successful tenures in Colombia.
There are significant challenges ahead, though. There is only so much chopping and changing permitted within this particular group of players. When Mexico thrives, it has a defined style of play, a familiar selection process and a trust in the group as a whole. Former boss Herrera masked his tactical shortcomings by harping on those traits during his time in charge. Osorio must take those lessons to heart as he attempts to shape his own side and navigate through World Cup qualifying.
If Osorio can figure out a way to extract the best from a squad capable of sustained success, then he might find a way to keep his new gig for the foreseeable future. It is by no means assured, though. He is attempting to buck the usual tumult and establish himself as an option for the long haul. It is an enticing and difficult task requiring diplomacy, nous and patience. More likely than not, it will also require frequent consultation with that trusty notebook along the way.