Jozy Altidore injures hamstring, putting his Copa America Centenario in doubt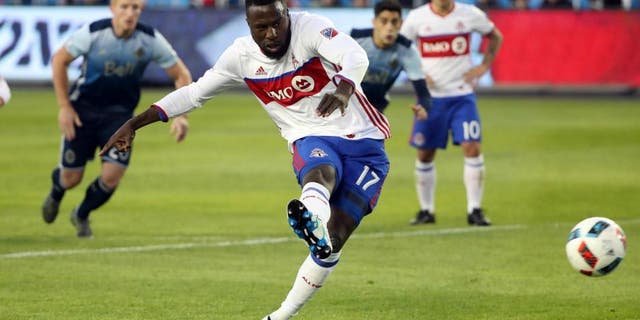 NEWYou can now listen to Fox News articles!
Jozy Altidore suffered yet another hamstring injury on Saturday and now there are concerns that he may not be available to play for the United States at Copa America Centenario.
Altidore appeared to injure himself while taking a penalty in Toronto FC's 4-3 loss to the Vancouver Whitecaps on Saturday. He missed the spot kick and two minutes later, went down to the ground before being substituted in the 38th minute.
"I don't know specifically how he is," said TFC coach Greg Vanney, in his post-match press conference. "He said as he was approaching the penalty, on the take-off step, he felt it a little bit.
"[His hamstring] is the indication that I have. We'll see."
Hamstring injuries have plagued Altidore for years. He suffered one in the United States' first match of the 2014 World Cup and missed the rest of the tournament as a result. Altidore also missed time at the 2011 and 2015 Gold Cups with hamstring problems. He also had issues with the muscle as recently as March, when he was limited in the Americans' World Cup qualifiers and had to sit out Toronto's first two matches of the season.
The U.S. begin Copa America Centenario training camp this week, although MLS players were not scheduled to join the national team for another week. It appears unlikely that Altidore will be fit enough for the start of training camp, but Jurgen Klinsmann will be far more concerned with whether Altidore can get fit in time for the Americans' first match of Copa America against Colombia on June 3.
Klinsmann has to submit his roster for the tournament on May 20, but he can make changes for injuries. If Altidore cannot play, the U.S. will likely turn to some combination of Bobby Wood, Jordan Morris, Chris Wondolowski and Gyasi Zardes at striker, with Clint Dempsey in a supporting role. That's hardly ideal, with all except Dempsey unproven on the international stage, so Klinsmann and Co. will undoubtedly be hoping that Altidore's hamstring doesn't keep him out of Copa America.
MORE FROM FOX SOCCER