Josh Tomlin throws a four-hitter, Indians beat Tigers 8-1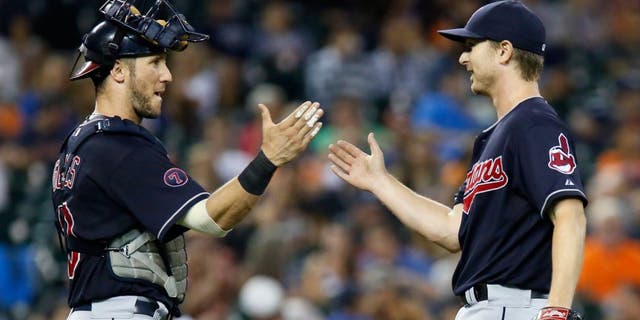 DETROIT (AP) -- Jerry Sands homered, tripled and scored twice and Josh Tomlin pitched a four-hitter as the Cleveland Indians beat the Detroit Tigers 8-1 Friday night.
The Indians have won 10 of 14 as they try to stay in the American League wild-card race. Detroit has lost seven of eight and been outscored 71-21 in that stretch.
Tomlin (4-1) was moved up a day after scheduled starter Corey Kluber couldn't overcome a hamstring strain sustained in a bullpen session earlier in the week. He allowed one run and a walk while striking out six. It was his third complete game, with the last one coming June 28, 2014 in Seattle.
Kyle Lobstein (3-6), who had been sidelined since May 23 with a shoulder injury, allowed six runs on eight hits and two walks in 4 1/3 innings.
Sands broke a scoreless tie in the third with a two-run homer off Lobstein. It was nearly 5-0 by the end of the inning, but Carlos Santana's drive down the left-field line hooked just foul as it entered the stands.
In the fifth, Sands led off with his first career triple and scored on Giovanny Urshela's single. With one out, Francisco Lindor and Michael Brantley hit back-to-back doubles, making it 4-0. Santana was intentionally walked, loading the bases for Drew VerHagen to come out of the bullpen and face Yan Gomes with one out.
VerHagen hit Gomes, driving in a run, and after retiring Chris Johnson, he walked Abraham Almonte to make it 6-0. Sands nearly struck again, hitting a high hopper over first that Miguel Cabrera grabbed to rob him of a bases-loaded double.
Cabrera pulled the Tigers within 6-1 with an RBI single in the sixth, but Lonnie Chisenhall's two-run double gave the Indians a seven-run lead in the next inning.
TRAINER'S ROOM
Indians: Cleveland manager Terry Francona expects Kluber to miss at least 10 days. If RHP Carlos Carrasco (shoulder) gets though a Saturday bullpen with no setbacks, he will replace Kluber in the rotation.
Tigers: SS Jose Iglesias will be out for at least two weeks after being hit on the middle finger of his right hand while trying to bunt Thursday night in Kansas City. Initial x-rays were negative, but a follow-up CT scan on Friday showed the fracture. Detroit recalled SS Dixon Machado from Triple-A Toledo to fill in.
UP NEXT
The teams play the second of their three-game weekend series Saturday night, with Danny Salazar (12-7, 3.27) facing Alfredo Simon (11-9, 5.09). Despite his winning record, Simon is tied for the major-league lead for most starts allowing six or more earned runs (6, tied with Jeff Samardzjia) and most allowing six more runs (7, tied with three others).