Josh McCown on Browns' loss: 'Heartbreaking for all of us'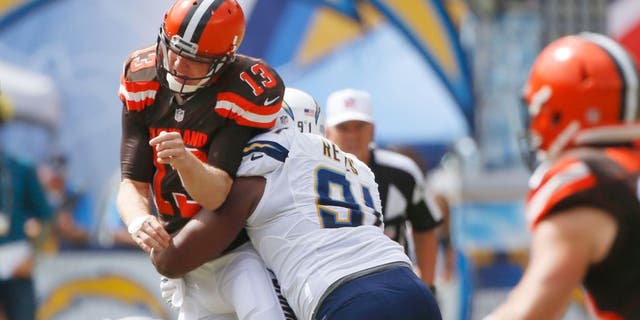 NEWYou can now listen to Fox News articles!
Walking off the field as the losing team Sunday in San Diego was like a punch to the gut for Browns quarterback Josh McCown.
McCown, who completed 32 of 41 passes for a season-high 356 yards and two touchdowns, rallied his team to a game-tying touchdown and two-point conversion late in the fourth quarter, only to see all go for naught on the ensuing Chargers drive. McCown's record as Cleveland's starter fell to 0-3 with the loss.
"I'm just disappointed,'' said McCown per Cleveland.com. "It's just heartbreaking for all of us. I feel like everybody battled and fought really hard."
McCown feels for teammate Tramon Williams, who went offsides on the Chargers initial attempt at the game-winning field goal that went wide right. McCown pointed to last week's loss to Oakland when his interception late in the fourth quarter thwarted any chance of a Browns comeback.
"All you think about is the plays that you could've done better," McCown said. "I won't think about Tramon doing that. I'll walk away thinking about what were the things I could've done to keep some drives going and I think that's the idea with the whole group. We get 53 guys thinking that way, we'll start making strides and some of these games will start going our way.''
Browns head coach Mike Pettine called the loss as disappointing as it gets.
"Just clearly a frustrating finish," Pettine said. The guys that were out there battling at the end and the guys that had to step up and play I'm proud of them. We just made too many mistakes. Penalties. Missed assignments here and there. Just some things that were self-inflicted. You can't do that against a team like this."