Josh Barnett: 'This is not a sport, this is entertainment'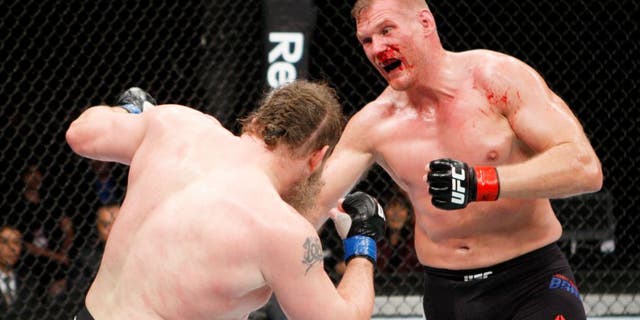 There is a kindred spirit shared between mixed martial arts and professional wrestling that a lot of combat sports fans would rather not talk about or ignore all together because one is seen as sport and the other is seen as pure entertainment.
UFC heavyweight Josh Barnett has blurred those lines for years and not just because he's worked as a professional wrestler in Japan but also because he's embraced the promotional side of MMA while also achieving great things inside the cage as well.
Barnett may not be as outspoken or outlandish as Conor McGregor or Chael Sonnen, but he speaks his mind and he tries to give people watching him something worth seeing both before and after his fight is over. A fight is 25 minutes at most and that's what will leave the biggest impression, but for all the time spent talking about the contest and then discussing what happened afterwards, Barnett always wants to make the most out of every opportunity.
It's a big part of the reason why he looks at MMA as entertainment more than sport because it's one of the rare showcases where athletes are truly giving a face and a voice -- much like professional wrestling.
"People put microphones and cameras in front of my face, I'm going to make the most out of it and I'm going to have a good time while doing so," Barnett told FOX Sports. "In the end, it ended up being bonus to everything but it is undeniable that what we do is entertainment.
"This is not a sport. This is prize fighting, this is entertainment. This is a pro wrestling of a sort. I'm not here to be a goofy, over the top wild guy with a made up person but in even just being myself I can bring something interesting to the table."
Barnett's long history with promotion outside the cage goes back to his earliest days in the UFC. Whether it was his original nickname -- "The Baby Faced Assassin" -- which was certainly memorable or his signature throat slash gesture done after every win, Barnett wanted to give something more to his fights than just the result.
He's not looking for the new generation of fighters to pay homage to him bringing a taste of pro wrestling to his fights a decade ago, but it's something Barnett is proud that he's done because he believes fans appreciate what he brings to the table.
"I'll be honest, I would be surprised if anybody from this younger generation of MMA even remembers anything about what I used to do," Barnett said. "They have such short memories these days. I'm always quite impressed when anybody says they've taken some kind of inspiration from some of the things I've said or done.
"But I know that whatever it is that I go out there to do, I take pride in doing it the way I feel is best. People come to be entertained and to see great fights and to see something out of the ordinary and I try to deliver as much as I can within a framework that is completely myself."
Barnett definitely plans to make the most out of his fight against Ben Rothwell this weekend in New Jersey where he hopes to not only take out another top 10 opponent but make a loud statement as well.
Rothwell is a heavy-handed slugger with the kind of punches that can easily render anyone unconscious and while Barnett isn't going to peg him as the most technical boxer on the roster, that doesn't mean he's any less dangerous.
"I'm not going out there to get caught in that hailstorm of Ben Rothwell punches," Barnett said. "They're often not pretty, they're not technical, but I've seen people spam the buttons playing Eddie Gordo (in "Tekken") and be pretty successful.
"I don't want come out there with King and try to pull off all the cool grappling maneuvers and have some six-year old keep hitting the buttons and do all these moves and take me out."
A win would certainly put Barnett that much closer to what he truly desires and that's another shot at the UFC heavyweight title.
Barnett was champion back in 2002 but now nearly 14 years later he still has the desire to go out and become the best heavyweight in the world again. There are no guarantees he'll get that chance with a win over Rothwell but Barnett is going to do everything in his power -- before and after the fight -- to ensure he's left a lasting impression.
"My biggest thing is the results will open the doors for me," Barnett said. "I'm going to go out there and give the absolute best performance I can give and I know it's going to be exciting if I do so. I know I have that kind of confidence."