Joseph Benavidez: A third fight with Demetrious Johnson is inevitable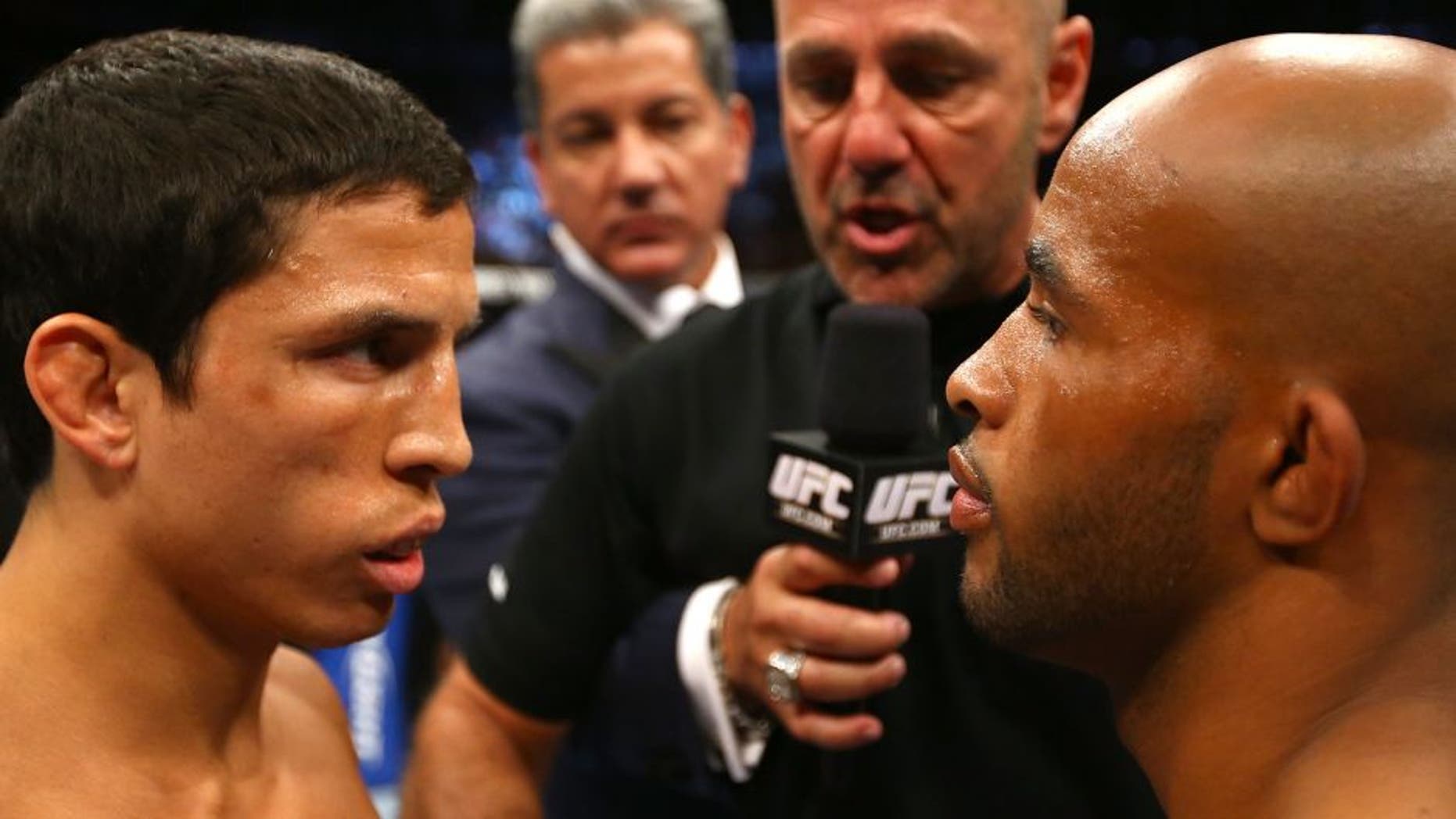 Demetrious Johnson has seemingly vanquished every top competitor in the flyweight division, but his toughest challenge may still be the man who he first defeated to win the 125-pound title in 2012.
Joseph Benavidez fought Johnson to a split decision in their first fight before losing by a dramatic first round knockout in their rematch.
Since then, Benavidez has gone 3-0 with a chance to add another win with his fight this weekend against Ali Bagautinov at UFC 192 in Houston. Four wins in a row still may not be enough to get a third crack at Johnson, but sooner or later Benavidez knows if he knocks off every other contender in the division, the UFC will have no choice but to give him the shot.
"I think a third fight with Demetrious is inevitable," Benavidez told FOX Sports. "I don't see him losing and I don't see me losing so I don't know what else they will do unless he actually goes back up (to bantamweight) or something like that. It's inevitable."
Benavidez doesn't hold any kind of personal grudge against Johnson for beating him but he wonders why the knockout loss is the only one people talk about while casually glossing over a split decision in the first fight that easily could have gone his way instead.
"People always remember the last fight and whatever happened. I got stopped so they just write you off right away," Benavidez said. "I made a mistake, he capitalized on it, but the chances of that happening are so small it's crazy. Demetrious has landed hundred and hundreds and thousands of punches and never did that to anybody and I've taken hundreds of punches and never had that happen. It landed on the perfect spot with perfect timing. A fraction of seconds, a fraction of inches and it's a different fight.
"I know how good I felt that night and what I'm capable of and it would have been another amazing flyweight title fight. It happened the way it did and people write me off. They forget about the first fight and what I've done in between."
The second fight still haunts Benavidez to this day, but not because he got knocked out in the first round. It's like not being able to wake up from a bad dream where he goes out to fight and then never gets the chance to actually compete or give his best.
That bothers Benavidez far more than any knockout loss.
"It's just a bummer. It's crazy because the first fight it was one of the least prepared of my career and I get a split decision. The second fight, I felt the best I've ever felt in my life and I get the worst result of my life," Benavidez said.
"If I went out there and felt the best I ever felt and fought the best I've ever fought and lost, I would have to reconsider things and think differently. I would have a different outlook on my career. He knocked me out but I wasn't able to give him my best and compete like I know I could have. The second fight is crazy. I've never been finished so it's just kind of crazy."
While Benavidez truly believes a third fight with Johnson will happen down the road, he's confounded by the way he's treated when he doesn't automatically call for a shot at the title or conversely in those moments when he lets the chance pass him by.
Benavidez doesn't always dedicate his post fight interviews to talking about Johnson and he's somehow derided for that decision. On the flip side, when Benavidez calls for a third fight with the champion he's often reminded that he's already lost to him twice.
So ahead of his fight this weekend at UFC 192, Benavidez is going to make one more statement about his intentions to face Johnson for a third time with the flyweight title on the line.
"It's such a double edged sword with media and stuff because after every fight by default, every media person should know yes I want to fight Demetrious right now, I'm ready, and I could give him a great fight. That's what I want to do. That's the only fight I want," Benavidez said.
"I love going out there and competing and fighting, but that's what means the most to me. It's something that I haven't been able to capture yet. I think I keep doing what I do and hopefully there's a third one."