Jose Bautista's Next Level Training Tool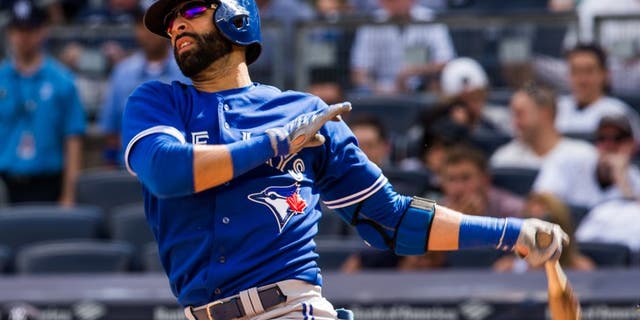 NEWYou can now listen to Fox News articles!
You know Jose Bautista for his proficiency at the plate, his big bat and those moon shot home runs. How he gets there, is by dedicating himself to his craft. Now in his eleventh year in the big leagues, Bautista and his Blue Jays have enjoyed a remarkable season in Toronto. It has been equally special for Joey Bats.
After leading the league in home runs in 2010 and 2011, injuries shortened his 2012 season and his numbers dipped. This year has been different, as Bautista has put up his highest home run, RBI, slugging percentage and walks (tops in the American League) totals since 2011. His combination of power, discipline and production are all a result of his training.
Evolving from the standard weight room, cardio and batting cage routine, Bautista has a new training tool in his arsenal. One that improves his cognitive function and ultimately prepares him for any in-game situation on the diamond.
Meet the HeadTrainer app. Started to redefine how athletes train, HeadTrainer works to sharpen cognitive function, critical in instinctive and competitive decision making necessary in sports. Endorsed by athletes such as Richard Sherman, Alex Morgan, Dale Earnhardt Jr., Rickie Fowler, Caroline Wozniacki and Bautista, some the top athletes in their respective sports were chosen for the HeadTrainer team, not only for their physical athletic ability, but also for their cerebral talents demonstrated in competition.
Through athletically themed training exercises that work to challenge an athletes cognitive skills, the HeadTrainer app works to improve how athletes train and play. The exercises on the app work known science as it applies to brain and training approaches. With games that challenge the user to recognize routes or when to shoot the ball or how to identify strikes, an athlete can train decision making, processing speed, focus, concentration, visual-spatial awareness and memory.
In discussing his use of the HeadTrainer, Bautista is joined by Dr. Deborah Attix, a board certified Clinical Neuropsychologist and is Medical Director of the Duke Clinical Neuropsychology Service, and an expert in the measurement of human cognition, longitudinal analysis of normative and pathological trajectories in serial assessments.
How do you use HeadTrainer?
Jose Bautista: I try to get on it a few times a week to go through some of the exercises just like I do with every other part of being an athlete. Sometimes we go to gym, sometimes we go the video room, sometimes we go to the batting cages, and practice on the field.
I always feel like it's one of the parts of being an athlete, whether it's professional or amateur, that you neglect the most. Working on the mental aspect and the mental readiness just to make sure that your train of thought is where it needs to be in the middle of competition.
With HeadTrainer I feel like I can go through some of those exercises and simulate some of the stuff that can happen on the fly, during a game. I doesn't feel like it's the first time my brain has to adjust to those situations, because I've done it on the app. So it's fresh in my head and I don't get rattled too much.
Dr. Attix: By aiming to be relative to your own baseline and improving in the areas of cognition in your respective sport, results are then measurable. When an athlete feels like they're doing better, that's a piece of data we want.
What is the importance is cognitive function in your performance?
Bautista: The one thing you want to make sure of is that in the heat of the moment, your brain isn't working against you, in the sense that you don't feel ready or prepared. You don't have a lot of time.
In most sports when it's time to go, it's time to go. It's also about learning how to keep priority on the things that are going to allow you to have success. You can only do that if you go through exercises like these. You'll get to know yourself well enough you'll see it in your performance.
With HeadTrainer, it's a platform to go through those trial and error exercises without having to let your performance be affected in the middle of competition.
Dr. Attix: Through the evolving evaluation of performance, cognitive capacity is so important and how it impacts function. The app is designed to be relative to skills that are utilized in a given sport.
How have you changed your training over the years?
Bautista: As you get older, you want to save as much energy and be more time efficient, if possible. So you have to learn how to be more effective with your workouts.
You learn what works for you -- again through trial and error -- and what doesn't. You always want to work and perfect your strengths and improve your weaknesses.
As an athlete over time you get to really pin down what truly allows you to be successful in the long run with your training. I've done that in all aspects, with my nutrition, with my rest. I've gone as far as knowing what temperature I like the room at, how much sleep I need, and I even put lavender in my room to help me sleep!
When using tools like HeadTrainer, what I'm trying to do is give myself the best chance to succeed. It's not a guarantee of success, just because I do all of these things. If I go to the plate and I don't swing the bat, then I'm not going to do something good for my team. I believe that using everything that's at my disposal as resources that's going to give me the best chance if I do it correctly.
By improving cognative function, can an athlete extend their career, when they get to a point where their physical skills decline?
Dr. Attix: In respects to physical abilities, with some functions can be affected, but not with all. If someone is maintaining their abilities, you will have a better outcome. By how much...that remains to be seen.
Another reason is the convenience of having the app on my phone and doing it on my time. We travel so much and our schedule is so tight. If you look at it from a time management perspective, if the opportunity. This is definitely something that I believe that for young players it will teach you discipline and a method that will allow you to be successful at your own pace.
How do you train differently during the grind of a 182 game season?
Bautista: You listen to your body. You feel what's weak and what's tight and you work them out, through stretching, massages and strengthening wherever you feel is needed. If you feel great, which is hard playing the game for ten plus years, then you just do a regular workout.
I don't have many of those nowadays, I've been around, I'm a little older. I've gotten to really understand my body and listen to it. My workouts are different every day, depending on how I feel. I don't a set workout plan anymore.
No matter how hard you train, for you, the bottom line is getting hits. So do you think the hardest thing to do in all of sports is to hit a baseball?
Bautista: I believe so. Not just making contact. Making consistent, solid contact on a baseball is by far, the hardest thing to do in all sports.
Who are some guys playing today that you like to watch hit?
Bautista: Different styles from different people, but they often work the same. I like watching guys like Robinson Cano, Nelson Cruz, Giancarlo Stanton or Adam Jones hit. You get to know them as hitters. It's almost like a video game for us when you're watching somebody else, because we know what each guy like to do at the plate.
It's a fun guessing game. Trying to guess the outcome of a particular at bat depending on who's pitching, and all the situations of the game, men on base or not. Because you know exactly that guy is trying to do. You play against them so much, you get to learn their swing and their approach. I like to do those types of things all the time.
It's been a tremendous season for the Blue Jays, what's the atmosphere in Toronto like right now?
Bautista: It's unbelievable. The support has always been there, but you really get to feel it from the people. They're coming out, they're being loud and they're packing the stadium every day. They're really showing us that support, it's almost like now we feel a duty to come out and support you. We're seeing it first hand.
The HeadTrainer app can be downloaded for free on the App Store or on Google play.