Jose Aldo reveals what happened in his meeting with Dana White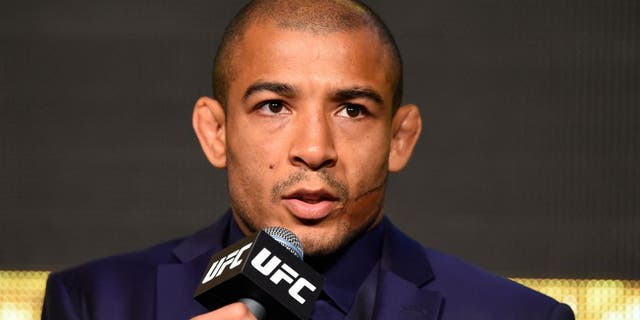 Jose Aldo flew to Las Vegas and met with UFC President Dana White and matchmaker Sean Shelby on Wednesday to discuss his many grievances with the company.
Aldo announced several weeks ago that he wanted to be released from the UFC and didn't plan to fight again after he failed to get matched up with Conor McGregor following his last win over Frankie Edgar in July.
Aldo's frustration also boiled over when McGregor was instead given a fight with lightweight champion Eddie Alvarez while he was still allowed to hold onto the featherweight title for a third consecutive bout outside the division.
According to Aldo, who spoke with reporters (audio via ESPN) after the meeting was finished, he still has no desire to fight again but said that the conversation with White and Shelby was positive and productive.
"At this moment nobody knows, I don't know. I came here from Brazil already with my ideas firmly fixed in my head and my current intention is to no longer fight and that hasn't changed," Aldo revealed. "That's how I felt when I left Brazil, that's how I feel still today. But like I said, the future nobody knows, we'll see.
"I think we had a good first conversation today. I think there's a few more conversations that will have to happen down the road but we'll see."
Aldo says his reason to meet with White and Shelby wasn't just about being released from his contract, but instead a chance to air his complaints to the UFC higher ups in an open forum.
From the sound of things, Aldo was happy with the way things went, but it still didn't result in any kind of resolution on whether or not he will fight again or potentially retire from the sport.
"I didn't come here just wanting to cancel my contract or to be released," Aldo said. "I came here because I had a lot on my chest, I had a lot of things I wanted to say and I thought saying them in person was the professional approach, the proper approach to take with them so I thank them for their time and for the opportunity to get things off my chest.
"What the future will hold, nobody knows. We'll have to wait and see."
When Aldo first registered his complaint with the UFC through a series of interviews, his coach and manager Andre Pederneiras said that the fight to break free from his contract could go as far as a legal battle in court.
Aldo clarified those remarks on Wednesday by saying he had no intention of filing any kind of lawsuit against the UFC to get out of his contract. Instead, he just wanted to sit down with his bosses from the UFC and have a very frank and candid conversation.
"No, there's no reason to do that. I'm not that kind of guy," Aldo said. "I'm a man. I came here, no one made me come here, I wanted to be here, I wanted to have a face-to-face conversation, man to man and make my feelings known. Not through statements made to third parties and misinterpreted or mistranslated.
"I wanted to sit down with Dana and Sean and tell them how I felt personally and that's it. That's all I wanted to do."
Aldo isn't any closer to booking another fight after his meeting with White and Shelby on Wednesday, but it appears his anger with the promotion has subsided dramatically from the statements he made a couple of weeks ago.
Still, Aldo just doesn't see himself fighting again at least given his current state of mind about the sport.
"If I had no contracts, if I had nothing binding me, nothing forcing my hand, I don't think I'd have the motivation to fight right now," Aldo said. "I don't think that's something that I would be doing, but of course, I have a contract. I respect that. I respects the obligations therein, but like I said, we came here to have a conversation, to start a dialogue, to speak face to face and that went really well.
"I feel good about that. I feel good where we're starting from so we'll see."