Jose Aldo named to Forbes 30 under 30 for 2016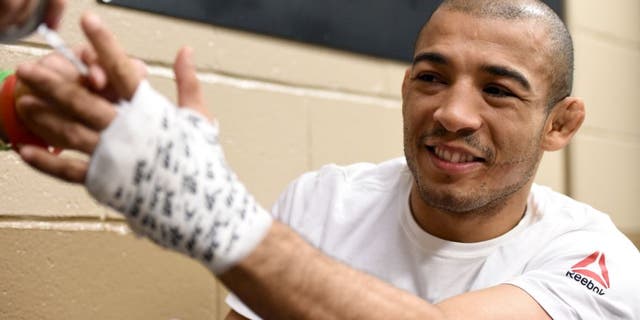 NEWYou can now listen to Fox News articles!
Former UFC featherweight champion Jose Aldo didn't close out 2015 the way he wanted but it appears his new year is off to a good start after being named to Forbes' top 30 under-30 list in sports for 2016.
The names were released by Forbes on Monday with names ranging from Steph Curry to Cam Newton as well as executives, reporters and other notable people from the world of sports under the age of 30.
Aldo was among the final names calculated by a list of judges that included Carmelo Anthony, Los Angeles Clippers owner Steve Ballmer and Boston Bruins CEO Charlie Jacobs.
For his part, Aldo was included thanks to his status as one of the best pound-for-pound fighters in the sport and an undefeated string that lasted for nearly a decade. Despite his 13-second knockout loss to Conor McGregor -- who didn't make the list -- Aldo still made the top 30 under-30 list for 2016.
"Even with his UFC 194 loss, Aldo would still make any comprehensive list of great UFC fighters," Forbes wrote about the Brazilian. "He was the defending featherweight UFC champion and was ranked No. 1 in official UFC pound-for-pound rankings. He also went a decade without losing a match since 2005 and reigned as a world champion for 6 years."
Aldo joins Ronda Rousey, who made the list in 2014, as well as former UFC light heavyweight champion Jon Jones, who cracked the top 30 in 2015.
The honor of making the list will hopefully kick start a good year for Aldo, who will seek to regain the featherweight title when he returns to action. There's no word on when Aldo will fight in the Octagon again, but it appears he won't be earning an automatic rematch with McGregor for his first bout back.
Either way, Aldo's excellence inside the cage for the past decade was more than enough for him to earn the honor of being one of Forbes' top 30 under 30s in for 2016.