Jose Aldo: Conor McGregor won't have any title belts by 2017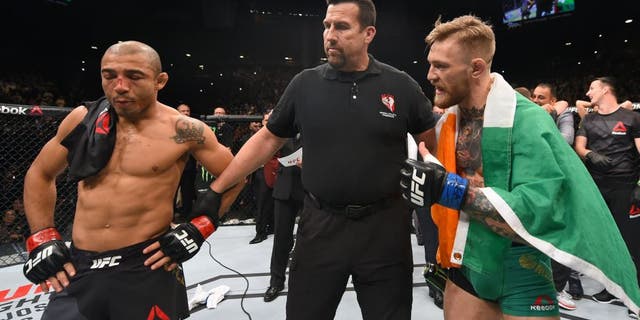 Conor McGregor has been talking a lot lately about adding more championship belts to his collection. He's already the featherweight world champion and fights March 5 for the lightweight strap.
After that, he says he has his eyes on Robbie Lawler's welterweight title. The last man to face McGregor, former champion Jose Aldo, doesn't even believe the Irishman will have any titles left by the end of 2016, however.
"I think it's tough," Aldo told Brazilian media members, recently, when asked if believes McGregor could win titles at 155 and 170.
"I'll say this: I don't think he will have any belt by the end of the year. And everyone will forget him. He has this dream, this goal, but you can be sure that he won't have any [titles] by the end of the year."
Aldo seems to believe that McGregor's hubris will contribute to his fall. Aldo wants another crack at McGregor after losing to him in 13 seconds in December.
The Brazilian is hoping that he fights for a title next, and believes that Rafael Dos Anjos will beat McGregor before that. Afterwards, Aldo plans to take his belt back from his rival.
"A fight is a fight and you have to respect the other side," he continued.
"I see Rafael with the [lightweight] belt and the [featherweight] belt back to me. That's a fact."