Jose Aldo beats Frankie Edgar; immediately calls for Conor McGregor rematch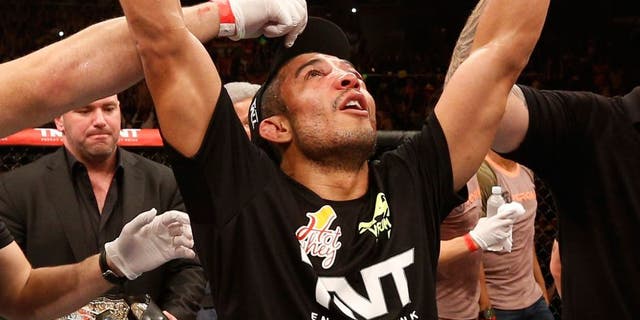 NEWYou can now listen to Fox News articles!
LAS VEGAS -- Jose Aldo is a UFC champion once again.
The greatest featherweight champion the UFC has ever known reclaimed an interim title on Saturday night at UFC 200 by beating Frankie Edgar by unanimous decision. And then Aldo immediately turned his attention towards Conor McGregor.
Aldo faced Edgar with an interim belt on the line, while McGregor is currently embroiled in a rivalry with Nate Diaz that will culminate in a UFC 202 rematch in August.
Until McGregor returns to featherweight, the UFC opted to introduce an interim title, giving Aldo the chance to put gold back around his waist while taking on Edgar for the second time in his career.
Edgar came charging out of the gate looking to mount an early lead. And it appeared the game plan was working -- until Edgar let his guard down with about a minute to go in the first round, and the Brazilian started firing back with huge counter shots.
Those counter strikes ended up being the game plan that made the difference for Aldo, as he continuously caught Edgar moving forward.
While clearly the more active fighter, Edgar wasn't able to land nearly as many effective strikes, and Aldo's confidence actually started to grow with each passing round.
In the first fight, Aldo faded a bit in the latter rounds as Edgar started to use his conditioning to mount a comeback. This time around, there was no late surge for Edgar, and Aldo actually landed the hardest shots of the entire fight from the third round until the final horn sounded.
When it was all over, Edgar nursing a bloodied up face, bruised and cut from all the punches he ate over five rounds.
Aldo had clearly done enough to win. The final scores read 49-46, 49-46, and 48-47 all in favor of Aldo, who is now the new interim featherweight champion.
As happy as Aldo was to get a title back around his waist, his mind was on one person and one person only. Aldo wasted no time pointing a finger directly at McGregor, who was sitting cageside for the title fight.
"Frank's a great athlete, I respect everyone but I have one goal and it's to beat this guy -- you can bet the next time I come here, I will beat him," Aldo promised.
Aldo will now have to wait for McGregor to return to the featherweight division to unify the titles, to seek revenge for the 13-second knockout he suffered at the hands of the outspoken Irishman in their last meeting.