Jorge Masvidal rips middleweight champion Michael Bisping in expletive-filled tirade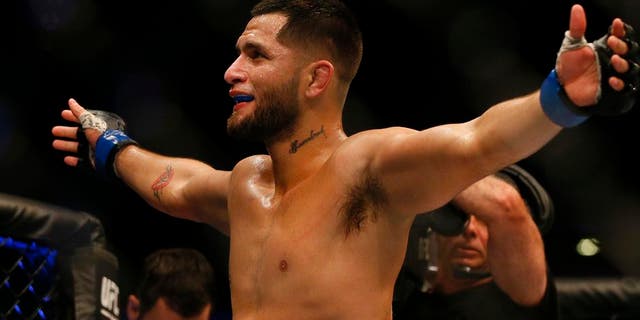 Jorge Masvidal is clearly not a fan of middleweight champion Michael Bisping.
The top 10-ranked welterweight has been engaged in a battle with Bisping over social media when he refused to appear on his podcast just recently.
Masvidal explained why he declined to do the podcast while taking aim at Bisping ducking his teammate Yoel Romero, who is currently ranked as the No. 1 contender in the middleweight division.
"That dude's just a [expletive]," Masvidal told FOX Sports about Bisping. "He's upset about a couple things. He doesn't like Cubans. My boy Hector Lombard had a run in with him back in the day, he kind of molested him in the elevator and that stuck with him. He always talks [expletive] about Yoel [Romero], not wanting to fight him. Then I said something about Yoel should be the one, I don't even remember what I said, I was just rooting for my boy, my teammate, when Georges [St-Pierre] had the next fight.
"Then they asked me to be on his podcast and I said no. I'm not going to make his podcast famous and he's been all butt hurt about it going on rants about me. That dude's a [expletive]."
Masvidal then took aim at Bisping by suggesting there may be some kind of bias when it comes to the real reason he doesn't want to fight Romero.
"Dana White and the White Fighting Championships and white boys only fighting white boys is weird to me," Masvidal said. "Why aren't you fighting Yoel, man? Is it because he's Cuban or because he's black? What is it that he can't get that shot?
"Because he's 7-0. Beating the best guys in the world, impressively, knocked them out. Why can't he get the title shot? Then he's saying he doesn't want to fight Yoel, he wants to fight [Robert] Whittaker. To me that's just a [expletive]."
Masvidal says he got into the sport so he could face the best of the best in whatever division he's competing in but he doesn't believe that's the same for Bisping.
That's why he encourages the current middleweight champion to continue pursuing his acting career or another occupation because fighting just isn't for him.
"I got into this sport to fight the world's best and if you're the champ and you're not fighting the world's best, what the [expletive] is wrong with you? You're in the wrong sport," Masvidal said. "Go do movies, go do that other [expletive] that this sport is starting to incline towards. But if you ain't about fighting, don't say you're a fighter. You're not.
"Dan Henderson beat his ass. That dude ran from that man. Ran from that dude. That dude is not a [expletive] fighter."