Jorge Masvidal predicts unsettling amounts of violence against Demian Maia at UFC 211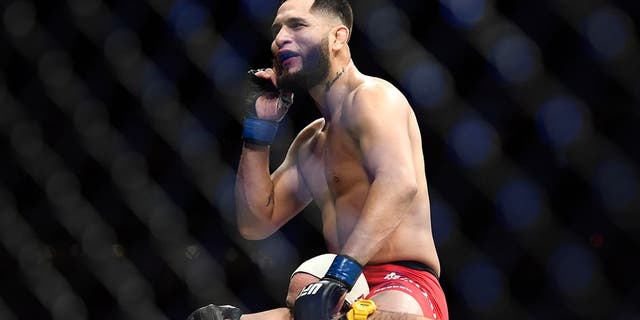 Jorge Masvidal is a new man reborn in the welterweight division these days.
The former Strikeforce title contender has always been considered one of the most underrated fighters on the roster, but recently Masvidal has revamped his game to adapt to the fan friendly style that involves stalking his opponents across the Octagon until they falter and fade from his brutal attack.
Donald "Cowboy" Cerrone found that out the hard way back in January when he faced Masvidal fresh off a knockout win of his own against Matt Brown less than two months earlier.
The fight with Cerrone was Masvidal's chance to shine under the spotlight and he did not disappoint. Masvidal unleashed a devastating offensive onslaught that nearly finished Cerrone in the first round before he completely decimated him to get the win in the second round.
For his next fight, Masvidal has been matched up with submission specialist Demian Maia at this weekend's UFC 211 card in Dallas. Maia is currently riding a six-fight win streak while tapping out several top ranked welterweights including former interim champion Carlos Condit and that's exactly why Masvidal targeted him in the first place.
"People who were surprised in the "Cowboy" fight are really going to be surprised in this fight," Masvidal told FOX Sports. "Me and my manager sat down at the beginning of last year and we said fights we'd like to get and then as the new year got closer, two of the fights on my road to greatness were "Cowboy" and Demian Maia. The reason is I think "Cowboy" is the best striker possibly at 170 [pounds], the way he was tearing people up and I think Maia is the best grappler in the division.
"When I beat that guy by out positioning him, out wrestling him, people are going to know how good my grappling is. They're going to see the best of "Gamebred". This ain't just talking. I've been here for a long time people just haven't been paying attention."
Zuffa LLC via Getty Images/Brandon Magnus/Zuffa LLC
This new found attitude in Masvidal came in large part due to his own misfortune in the UFC after losing several hard fought, split decisions against the best of the best in the lightweight division.
Masvidal has lost three separate fights by split decision in his most recent performances and that was enough to tell the veteran competitor that it was time to make a dramatic change in his style and approach.
The result has been three wins in a row including a blistering TKO over Jake Ellenberger before he laid waste to Cerrone in January.
"At my heart, I'm a counter fighter but in this mix of me losing split decisions I've had to rearrange my style to get these judges to always pick me," Masvidal explained. "Because I can't keep losing these split decisions. I feel like I blow guys out of the water.
"Like in the Al [Iaquinta] fight, how is that fight even competitive? Then I lose it 29-28 on one of the judge's scorecards but one judge gives me 30-27. It's crazy things like that, that blew my mind."
With the win over Cerrone in January and now the matchup with Maia in May, Masvidal has positioned himself not only as one of the most talked about fighters on the UFC roster but he's potentially just inches away from his first title shot in the UFC.
Masvidal has always considered himself one of the best in the world, but if the Cerrone performance didn't convince the pundits that he's the real deal, what he plans on doing to Maia should put everybody in his corner.
The only warning Masvidal has about the fight is that it might be rather unsettling to viewers because what he plans on doing to Maia may result in more than a few heads turning away like a graphic scene in a horror film.
"What's coming on May 13, people ain't ready for. If this was being sold on DVD's, you would make a half an hour line to get this DVD. Cause it's going to be brutal," Masvidal said. "If you don't like seeing violence, don't [expletive] tune in May 13. Cause what's coming on May 13 is going to be violent. It's going to be some [expletive]. The same way I told you about the "Cowboy" fight, it's going to be violent.
"This is not PG-13. This is not rated 'R'. This is XXX. If you don't like those types of films, don't tune in May 13. That's all I'm going to say."
Zuffa LLC via Getty Images | Zuffa LLC