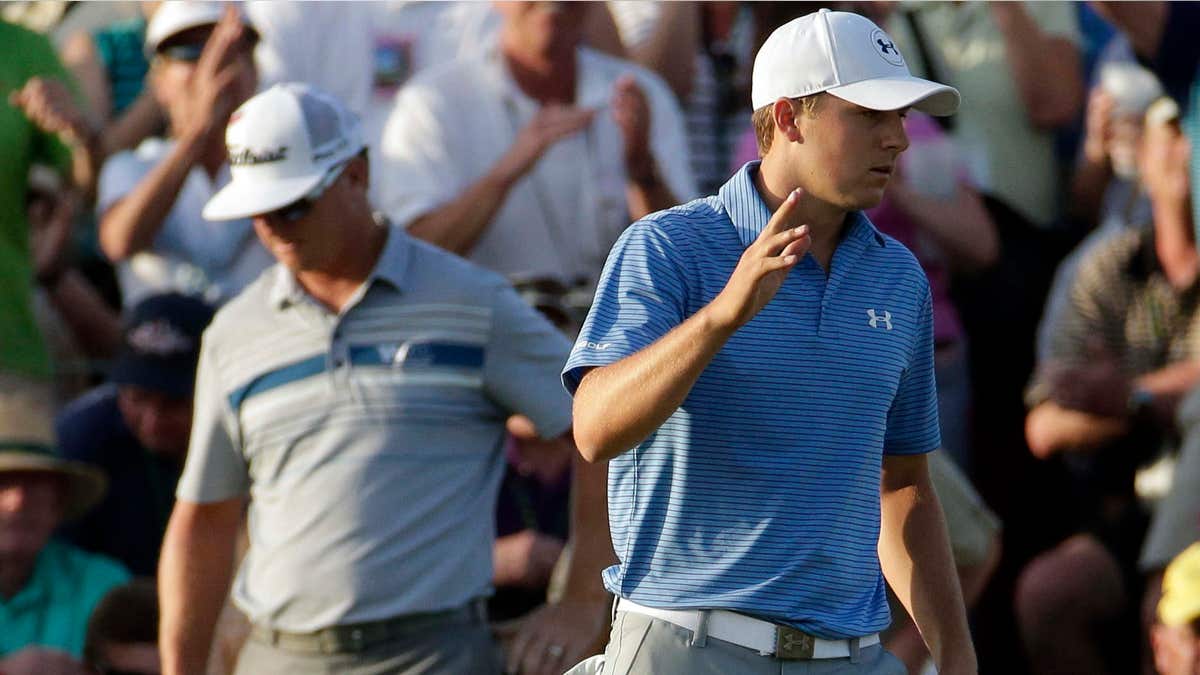 Jordan Spieth seized control of the Masters with a performance not seen since another 21-year-old, Tiger Woods, first blazed his way around Augusta National.
He made four birdies in five holes on the back nine to stretch his lead to seven shots. Standing on the 17th tee, he already was on the same score — 18-under par — that only Woods had ever reached in the Masters.
And then it all changed Saturday in two holes.
Out of nowhere, Spieth made a double bogey. Ahead of him, former U.S. Open champion Justin Rose poured in a 20-foot birdie.
In the worst spot he had been all week, Spieth ended 30 minutes of chaos with a bold shot that saved his par, set another Masters scoring record and gave the 21-year-old Texan a four-shot lead over Rose going into the final round.
On a day of charges and cheers for the biggest names in golf — Tiger Woods, Rory McIlroy and Phil Mickelson — Spieth now gets to return and do this all over again.
"We've got a long way to go," Spieth said after his 2-under 70.
It might have felt even longer without one last display of his exquisite short game. Spieth put his approach on the 18th into the gallery, right of the green, behind a bunker with the green below and running away from him. He took the high-risk option that offered his best chance to save par — a flop shot off a tight lie — and pulled it off to perfection.
Spieth saved par from 10 feet to stay at 16-under 200, breaking by one the 54-hole record held by Woods (1997) and Raymond Floyd (1976).
"That just took some guts," Spieth said. "And having been in this scenario, or having been in contention enough, having been on tour for a few years, I felt comfortable enough playing that full flop. If you caught me a year-and-a-half ago, I probably never would have played that shot in that scenario.
"Seeing any putts go in on 18 is nice," he said. "I would like to have maybe a couple of them" on Sunday.
Considering the shrinking size of his lead and the caliber of players behind him, Spieth might need them.
Rose closed with five birdies on his last six holes for a 67, and that birdie on the 18th put him in the final group for the first time in a major.
"Jordan was so far ahead that it was almost ... you were just playing your own game," Rose said. "It was nice to stay patient and get rewarded with a hot finish. It's amazing, and it put me in with a great opportunity tomorrow."
Mickelson wore a pink shirt in honor of Arnold Palmer because he knew he needed a big charge, and the three-time Masters champion delivered a 40-foot birdie putt on the 16th hole on his way to a 67, despite two bogeys on the back nine. Mickelson was five shots behind.
Woods and McIlroy will play together in the final round of a major for the first time, though both are 10 shots behind.
Spieth knew what he was facing even before he started.
Woods, who for three rounds has made everyone forget about that guy who shot 82 in the Phoenix Open earlier this year, ran off three straight birdies early in the round, and he threw a victorious fist pump after a most improbable birdie on the 13th hole. McIlroy made eagle on his second hole, went out in 32 and inched closer to Spieth on the back nine.
Both of them stalled at the end. McIlroy made bogey on two of the last three holes for a 68. Woods made a bogey from the bunker on the 18th for his 68.
For a short time late in the afternoon, Spieth made the green jacket ceremony seem like a formality.
Four shots ahead of Charley Hoffman, Spieth buried a 10-foot putt on the 12th hole and another birdie from about the same distance at the 13th. He followed a three-putt bogey on the 14th hole by making two more birdies, and his lead was up to seven shots as the trees began casting long shadows.
He looked in total control at what is the most peaceful time of the day at Augusta National.
And then it was shattered. Spieth chipped weakly to the 17th green and three-putted for a double bogey.
It was a reminder how quickly comfort can vanish. A year ago, Spieth was on the wrong end of a four-shot swing over two holes in the final round at Augusta. He went from a two-shot lead to a two-shot deficit and never caught up to Bubba Watson.
"Last year definitely left a bad taste in my mouth," Spieth said. "I've been looking to get back, looking at trying to get some revenge."
The story line should sound familiar — a 21-year-old with a four-shot lead going after his first major at Augusta National. Four years ago, that was McIlroy, who shot 80 in the final round. Now it's Spieth's turn, and he at least knows what to expect.
"I think the good thing for him is he's already experienced it once," McIlroy said. "He's played in the final group at the Masters before. It didn't quite happen for him last year, but I think he'll have learned from that experience. I think all that put together, he'll definitely handle it a lot better than I did."
McIlroy all but ruled out his chances of adding the Masters to his collection of majors. Only one player in major championship history has rallied from 10 shots behind on the final day. That was Paul Lawrie at Carnoustie in the 1999 British Open, and Jean Van de Velde is nowhere to be found.
Woods wasn't willing to concede.
He mentioned Greg Norman's collapse in 1996 after the second round, and McIlroy's collapse after he finished up his third round.
"I'm going to have to put together a really special round of golf tomorrow," Woods said. "You never know around this golf course."