Jones looks forward to USA return after summer frustrations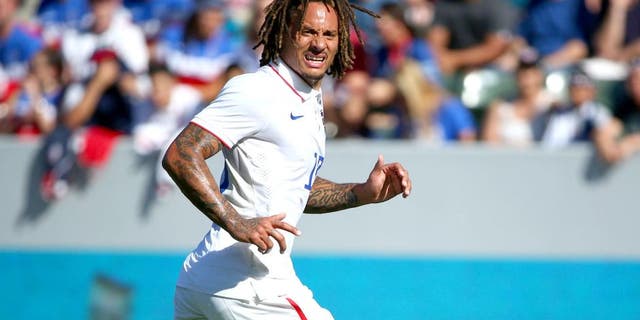 NEWYou can now listen to Fox News articles!
FOXBOROUGH, Mass. --
The past few months slipped away from Jermaine Jones. He soldiered through the best he could after undergoing a second sports hernia surgery this year in June, but he spent most of his time watching. There were no alternatives. He could not aid the New England Revolution as they toiled through the summer. He could not stamp his impact on matches for the United States, either. His health simply precluded it.
Jones instead spent his summer rehabilitating once more and steeling himself for that moment when he could contribute. It proved difficult across the board, particularly as the Americans exited in the CONCACAF Gold Cup semifinals and the Revs suffered through a five-game losing streak.
Those days are over now, though. Jones is back on the field after returning to full health. His sights are fixed firmly on the challenges ahead -- including the friendly on tap against Peru on Friday (live, 7:00p.m. ET, FOX Sports 1, FOX Sports GO) -- even as he joins a U.S. team still processing the fallout from the Gold Cup demise.
"It's tough," Jones said before he joined up with the squad in Washington, D.C. this week. "I'm a big part of this team over the years now. It's tough to see, but I think we have to push the Gold Cup back now. It's not what we wanted. But now we look forward. We have two friendlies coming up now and we have Oct. 10, which is a big game in L.A. against Mexico. We can fix everything with that one game. I think this is the big goal."
The primary personal objective for Jones involves returning to full fitness and sharpness over the next few weeks. Jones and the Revolution exhibited considerable patience over the past couple of months as the 33-year-old midfielder recovered from an hernia operation designed to eliminate a problem that plagued him for much of this calendar year.
Jones aggravated the lingering complaint in the Revolution's 2-2 draw with LA Galaxy on May 31, but he said that he never quite felt like he returned to 100 percent after that first surgery. He noted the importance of having that second procedure in mid-June to erase the pain for good and permit him to move as freely as he did in the past.
It came at a cost, though: Jones missed the high-profile friendlies against Netherlands and Germany, the Gold Cup run and nine matches for the Revolution this summer.
As his teammates carried out their duties, Jones recovered from his surgery and rehabilitated carefully. He knew he needed to make sure he returned at the right time for the Revs and sorted out his issues for the long-term with the CONCACAF Cup and the MLS stretch run right around the corner.
"I've tried to make it step by step and not to force it," Jones said. "It's always hard to come back. Everybody knows that, with the fitness and stuff, but I'm happy that back out on the field and that I can play and that I can be with the boys."
Revolution coach Jay Heaps integrated Jones back into his squad carefully over the past few weeks to ensure he ramped up his efforts appropriate. Jones made his return with a 14-minute spell against Toronto FC on Aug. 1 and steadily increased his minutes in subsequent victories over Houston (45 minutes on Aug. 15) and Philadelphia (62 minutes on Saturday) before this international break.
"I think it's a process," Heaps said before the triumph over the Union. "With Jermaine, he's such a big presence and a big part of what we're doing, but, at the same time, he's fitting into the structure of how we're playing. We'll have to adapt to him. He'll have to adapt to the lineup a little bit because he's still coming back. He was out for a significant amount of time, but every time he gets out on the field and every time he trains with us, we get that much closer to where we need to be. We're better when he's on the field, that's for sure."
It helps when Jones himself feels better than he has felt in months. The lingering twinges are no more. There is still work to do as he shrugs off the remnants of his surgery and works his way back toward match fitness (he hasn't played 90 minutes since May 23), but there is also light at the end of the tunnel, too.
"I don't have the pain that I had before," Jones said. "I still have surgery stuff that you feel after surgery. That's normal. The doctors gave me the green light. They told me I'm looking good."
Those words were exactly what Jones wanted to hear after a difficult summer. He is no longer consigned to watching from the sidelines. He is back for both club and country. And it is now time for him to make his mark on both accounts as this year winds to a close.