Jones is still 'The Boogieman' at 205 pounds & his return is imminent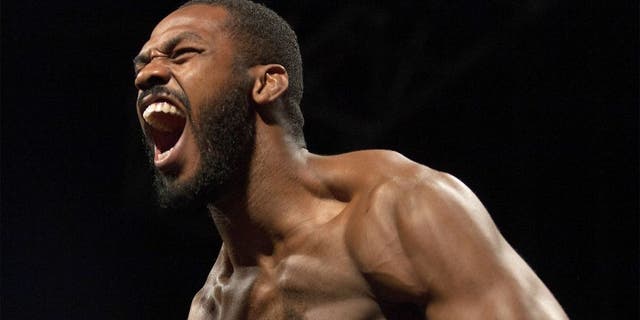 Daniel Cormier defended his UFC light heavyweight title against Alexander Gustafsson on Saturday night in Houston. The bout might go down as the best fight of the year, but the two competitors hardly had any time to celebrate the moment before a monster crashed their party.
The monster was former light heavyweight champion Jon Jones. He wasn't in the arena, but he's all anybody could talk about.
Jones has been out for the past six months on an indefinite suspension after he was involved in a hit-and-run accident in New Mexico in April. He was stripped of the title as part of his punishment, which is the same belt Cormier is carrying around today.
A week ago, Jones' legal saga came to an end as a judge sentenced the fighter to 18-months probation after he pled guilty in court. Four days later, Jones watched Cormier and Gustafsson fight in the main event while his former training partner Rashad Evans took on Ryan Bader in the co-headliner.
Jones saw Cormier get through Gustafsson after five hard-fought rounds and witnessed Bader get the biggest win of his career with a decision over Evans.
Somewhere in the back of Jones' mind while watching the headline bouts at UFC 192 he had to think -- 'been there, done that.'
Jones trumped Cormier by a unanimous decision in a fairly one-sided fight back in January. He did the same to Evans when they met in 2012. Gustafsson came the closest to beating Jones when they met in 2013, but the Swede is now off two losses in a row and will probably have some work to do before he gets another shot at the title.
As for Bader, Jones put him away via submission when they met one fight prior to his championship win over Rua in 2011.
Jones' shadow was going to loom large over UFC 192 regardless of the timing of his court case, but his legal situation being settled only served to raise the scrutiny Cormier fought under while holding onto a belt he won a fight after losing to the former champion at UFC 182.
What's hard to forget with Jones' return seemingly so imminent is none of what happened is Cormier's fault the same way the onus doesn't fall back on Gustafsson, Bader, Evans or anybody else at 205-pounds to defend the division moving on while the former champion was looking at a felony charge that could have ended with some serious prison time on the line.
But now that the legal drama dust has settled, a lot of light heavyweights are having a recurring nightmare they can't wake up from because Jones is lurking around every corner as the 205-pound Freddy Kreuger.
He already teased his return to action just minutes after Cormier was announced as the winner in his fight over Gustafsson.
Make no mistake, Jones is going to come back to try and reclaim what's his. As good as Cormier and Gustafsson looked on Saturday night, no one has looked better than the 28-year old wrecking machine from New York. Jones made champions and former champions look ordinary while he was rising up the ranks as the best pound-for-pound competitor in the sport and possibly one of the greatest fighters of all time.
During Jones' brief six-month absence, Anthony Johnson was the one new person with a shot to take the crown because they had never met before, but then he fell to Cormier in May. Of course while every fighter at 205 pounds will claim to want a shot at Jones, only one of them really matters right now.
Cormier wants to avenge his loss to Jones from January and a rematch will be a chance at redemption.
He was looked at as the last great foil Jones had to conquer in the light heavyweight division. Now, with a title around his waist as the UFC champion, Cormier knows to define his place in the sport, he needs to win the rematch -- and make no mistake, he wants another shot at Jones as much as anything he could be offered for his next fight in the UFC.
The harrowing part is Cormier still has to beat Jones, which is much easier said than done but at least now it looks like he'll get the chance.
It could only be a matter of days until the UFC announces Jones is officially back. So return to your normal lives for nowm but once the former champion is off his chain, there are going to be a lot of sleepless nights in the light heavyweight division.