Jones, Hayes reach 100m-hurdle semis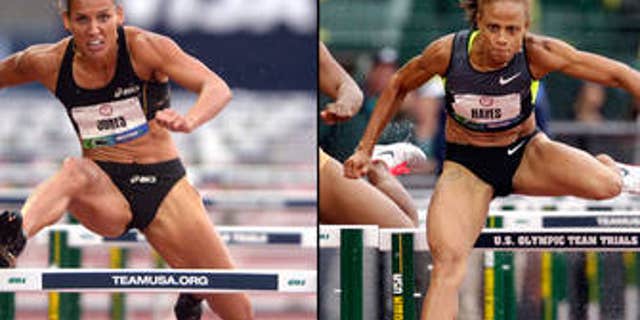 EUGENE, Ore. – This is the story of a 29-year-old virgin versus a 35-year-old mother. LoLo Jones has all the attention, the love, the focus and surely all the money, too. Good for her.
But what does that leave for Joanna Hayes?
"She's got 1,200 sponsors,'' Hayes said. "I've got no money. But I have Zoe.''
Hayes laughed. Zoe is her 18-month-old daughter. Her name was on the top of Hayes' right shoe Friday as she ran the 100-meter hurdles in the U.S. Olympic trials. On the left shoe was Zoe's birthdate, 12-11-10.
There is nothing negative to say about Jones, who came from severe poverty and nearly won the gold medal in the 100-meter hurdles at the 2008 Olympics. She hit one of the last hurdles, though, and finished out of the medals.
Since then, she has become the face of U.S. track and field because of her funny, self-deprecating tweets and, even more so lately, when she revealed that she's a virgin.
Here was one of her recent tweets: "When @usainbolt is at a race, I'm the free bread they serve b4 the meal. U don't want my autograph kid? No, I don't know where Usain is. . .''
She is a study in our pop culture, someone mastering social media -- a beautiful woman competing at the top level in skimpy clothes and talking about being a virgin.
But on Saturday, she and Hayes both will try to qualify for the Olympics, both in the 100-meter hurdles. Both finished third in their first races Friday to advance to the semifinals.
Hayes' story doesn't have the same pop, but instead has its own unrecognized inspiration. She won the gold medal in the 2004 Olympics in Athens, blew her hamstring at the 2008 Olympic trials, had a baby and now has decided to come back.
Yes, 18 months ago, she delivered a baby, and now has ripped abs and, at 35, is trying to get back into the Olympics.
Why don't we know about her? Come on, any mother knows this woman is incredible.
"They're joking with me, asking if I'm going to run the Masters race (for older runners),'' she said. "I'm like `Hey!' ''
Neither Jones nor Hayes was particularly fast Friday. Both barely advanced. And Jones was unhappy with herself afterward no matter how much the gushing media tried to ask questions that made her feel better. Someone asked if she was happy with the race.
"Are you kidding?'' she said. "No. Did you see the race?''
Jones clearly was disappointed, and the realization might have been hitting that she is not a favorite. She ran in 13.01 seconds to Hayes' 13.06. They were 15th- and 16th-fastest out of 21.
But the preliminary races aren't about times. They're about finishing in the top three and advancing. Hayes said she was rusty at the start and found herself looking down at the other runners' feet. Then, rather than risk burning out to try to win, she said, it was best just to move up to third, stay there and advance to Saturday semis and, potentially, finals.
"Sometimes I run my best races when I'm pushed in the corner,'' Jones said. "There's not a lot of time to worry. I've had races where I've run like 12.9, and after those, dropped to 12.4.
"It's not really a big deal. I am concerned, but I just know there's room for improvement.''
If Jones doesn't qualify for the Olympics on Saturday, it's going to be a hard moment for people who know her story. No, not the virgin part of the story, but instead the part she talked about again recently on HBO's Real Sports.
It's about her father being in and out of prison, about being homeless at times, and about "shoplifting frozen dinners at a grocery store. I could shoplift four dinners easily.''
Jones said she dreams of having a family, living a Norman Rockwell life. She also wants an Olympic medal. And when you add it up, Hayes already has so much of that.
"I didn't intend to come back,'' Hayes said. "Some people train while they're pregnant. I gained 43 pounds. I enjoyed my pregnancy. I ate everything, and I didn't train after that. I just kept living life.
"I just started thinking about it after nationals last year. I started training, and thought, `Not too bad. I'm actually kind of hanging in there with the girls.' ''
Hayes did not show the stress or pressure on her Friday that Jones did. She talked about enjoying every second and thanking God for the opportunity.
Some of the hurdlers have shown jealousy about the attention that Jones gets. Dawn Harper, who won the gold in 2008 after Jones' mistake, has said that it bugs her. And a few of the hurdlers, including Hayes, made jokes about it at a news conference earlier in the week.
Hayes said she throws darts at Jones' pictures all day. Just jokes, Hayes said. She said she has no animosity toward Jones.
So this isn't to pull for one over the other, or to downplay the incredible moment it would be if Jones were to win Olympic gold. It's just to note that you don't have to be a virgin to be an inspiration. A 35-year old, gold-medal mother isn't bad, either.