Jones a bright spot in tough season for Avs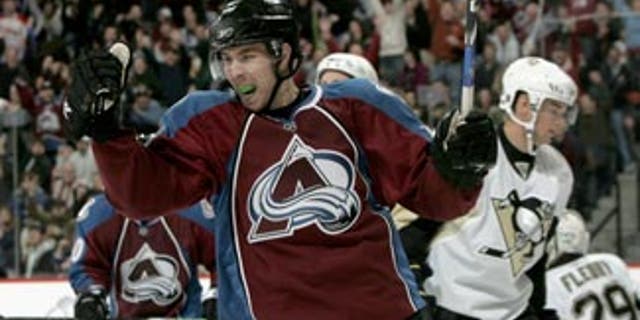 DENVER -- Bright spots have been rare for a Colorado Avalanche team whose season turned sour two months ago. The play of David Jones has been one of them.
The 26-year-old forward is having a career year and battling Matt Duchene for the team goal-scoring lead one year after undergoing reconstructive knee surgery for a torn anterior cruciate ligament.
"I always thought I could play at a high level," Jones told NHL.com. "It was tough being hurt because I think I was on my way to doing that last year. It's nice to have some success this year and hopefully I can keep it going and carry it into next year."
At 6-feet-2 and 210 pounds, Jones is the classic power forward, except that he also owns deceptive speed for a player his size. So there was more than the usual concern when he suffered such a serious knee injury in a game at Minnesota on Nov. 28, 2009.
Would Jones be able to accelerate with the same explosiveness when he returned, or would that valuable asset be lost?
As it turns out, Jones' skating hasn't been adversely affected -- and he expects the knee to be even better next season.
"You never know if it's going to be 100 percent," said Jones, who has career highs for games played (71), goals (25) and points (41) with seven games remaining in the season. "Even last summer after the season I wasn't really sure when I was going to be 100 percent. One week in July when I was training it just really clicked. I was kind of worried because it wasn't coming around, but then the strength and all the work I did through the season and summer kind of clicked.
"It was really tough recovering, tough mentally just to battle through it. I guess everything happens for a reason. Hopefully the injuries are behind me."
Injuries cut short Jones' previous two seasons. He missed the final 55 games and all six playoff games last season, and in 2008-09, he sat out the final 34 games because of a shoulder injury.
Jones was hurt last season on what he called a "fluky" play. He was skating with the puck in the third period at the Xcel Energy Center when Minnesota's Chuck Kobasew was pushed into him. Avalanche teammate Paul Stastny fell on top of Jones, whose leg was trapped underneath him.
Jones ranked second on the Avalanche at the time with 10 goals in 23 games, and he had team highs in game-winning goals (three) and short-handed goals (two).
"I was playing well, so (getting hurt) was even more disappointing," he said. "But I never got that pessimistic. I've seen other guys tear their ACLs; it happens. I don't want to say it's a common injury, but it seems like it happens to a few guys every year in this league. I talked to guys that had (the surgery) before, and they said I'd come back and the leg eventually would be stronger than the other one. Fortunately, we have great doctors and rehab trainers."
Jones skated with the team at the end of the season and hoped to take part in the playoffs, but he hadn't regained enough strength to play and was forced to watch the Avalanche lose a competitive six-game series to San Jose in the opening round.
"It just never got to the point where I felt I could push on it and get up to full speed," said Jones, who played three years at Dartmouth College and was the Avalanche's ninth-round pick (No 288) in the 2003 NHL Entry Draft. "I could kind of fake it in practice, but I just knew it wasn't ready, especially for playoff hockey."
If Jones lacked some confidence before reporting to training camp, it didn't take long for him to realize he'd be OK.
"Just seeing how I stacked up with the other guys, I knew it was back to normal," he said. "I wasn't sure how it would be throughout the season. I thought I'd have some aches and pains, but it's felt really good the whole year. Even the trainers said it will take a couple years to completely get all the strength back. I have to keep working out that leg individually because it's still a little bit smaller in girth than the other one."
Jones began the season at left wing on a line with Duchene and right wing Milan Hejduk, but he has played on both sides with numerous linemates because the Avalanche has been hit with so many injuries.
The irony is that Jones has been one of the few players on the team to stay healthy, other than missing four early games with relatively minor arm and hand injuries.
"With the injury that he sustained last year and missing the end of the season and the playoffs, he's had a pretty solid season for us," Avalanche coach Joe Sacco said. "He's a guy that's pretty consistent. You know what you're going to get from Jonesy night in and night out. He's a big body that skates well, he goes to the net and he's got a good shot, a good release.
"I think for Jonesy, more than the numbers and everything, it's been more of a year staying healthy. That's been kind of an issue with him in the past. Let's hope that going forward he can do the same thing and stay healthy. If he stays healthy, he's a solid NHL winger as a power forward."