Jon Jones returns with unanimous win at UFC 197 but refuses interim belt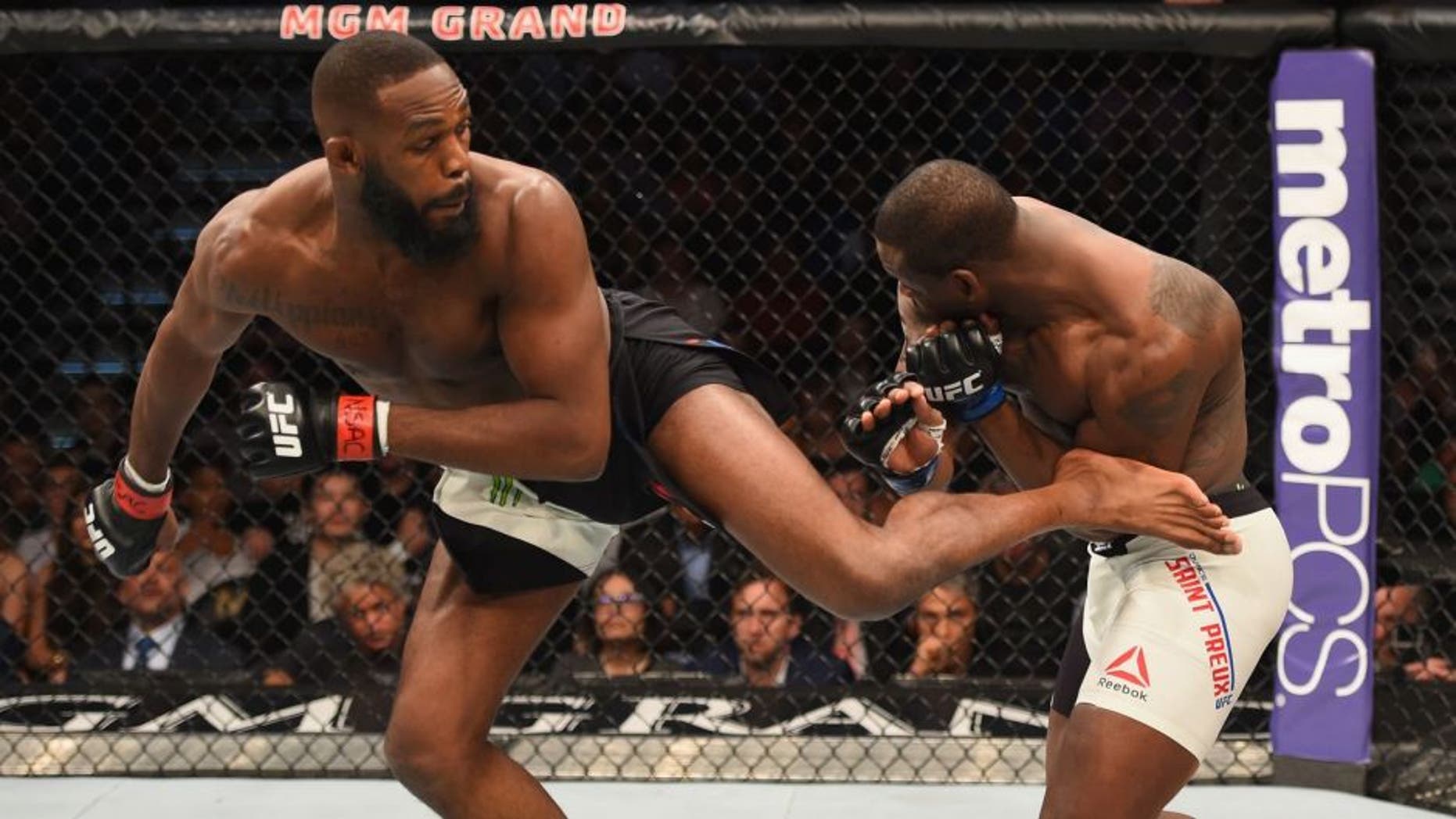 LAS VEGAS -- Jon Jones wasn't happy with his performance at UFC 197, but he still got the job done as he returned to the Octagon after a long absence to shut down Ovince Saint Preux while winning the interim light heavyweight title.
When it was over, Jones actually refused the interim title and instead said that he was waiting until he could put the real belt around his waist after facing Daniel Cormier later this year.
"I don't think I want that belt; it's not the real belt," Jones said. "I want my actual belt back."
It was a long road for Jones to get back to the UFC after he was suspended and stripped of his belt following an arrest for a hit-and-run accident in April 2015.
Jones went clean and sober for the past seven months as he regained his focus in an effort to reclaim the title he never lost in the cage, but an injury to current champion Cormier forced a change to the UFC 197 main event three weeks ago.
That opponent switch may have benefitted Jones, who didn't look his best on Saturday night but still got the job done.
After 16 months away, Jones was definitely rusty as he started the fight with Saint Preux, who accepted the matchup on just three weeks' notice after Cormier suffered a leg injury.
During his time away, Jones has worked tirelessly on his kickboxing and other new techniques, but he fell back into old routines early while chopping away at Saint Preux with his oblique kick that landed repeatedly.
Throughout the first round, Saint Preux looked like a deer in headlights standing in front of Jones without offering much offense of his own, instead just trying to avoid the unorthodox strikes from the top pound-for-pound fighter in the sport.
Jones got the better of all the exchanges and even tried to mix in a couple spin kicks and elbows, but nothing landed with force enough to do much damage to Saint Preux.
Saint Preux woke up in the second round with a hard counter punch that snapped Jones' head back and put the Las Vegas crowd at attention that this wasn't going to be an early finish.
Despite a few good shots landed in round two, Saint Preux couldn't mount much offense in round three, although Jones wasn't exactly pouring on the punishment either.
Finally, Jones decided to employ his wrestling in the fourth round as he picked up and planted Saint Preux on the mat with an emphatic thud.
It was clear Saint Preux was running on fumes, although he did everything in his power to resist the former champion mauling him on the mat.
As time ticked away in the fourth round, Saint Preux was clearly trapped on the ground as Jones just chopped away at him with punches and elbows. At one point, Jones stood up and landed a huge body kick while Saint Preux was still prone on the mat.
It looked like Jones might get a finish but Saint Preux was able to wait out the clock until the horn sounded, and the former Tennessee football player survived to fight another round.
With just more than two minutes to go in the fifth, Jones trapped Saint Preux against the cage wall before lifting him up in the air and slamming him back down in the center of the Octagon. The echo of the two light heavyweights crashing to the mat reverberated throughout the arena, but Jones failed to take advantage of the position and instead let Saint Preux back to his feet.
It was clear as the final seconds ticked away who won the fight, but Jones looked utterly frustrated as he just couldn't find a good enough opening to put Saint Preux away.
The judges returned equally lopsided scores with Jones winning 50-44, 50-45 and 50-45. Jones acknowledged that facing Saint Preux may have been the best medicine for him after such a long layoff, but he promised to return even better when he comes back for his next fight against Cormier.
"I needed that fight before fighting for a title," Jones said. "My next one's going to be a hell of a lot better, I guarantee it.
"I'm really excited to fight Daniel Cormier. I'll be right back at practice probably Tuesday or Wednesday, getting back to my original strategy."