Jon Jones cited for driving without a license, insurance or registration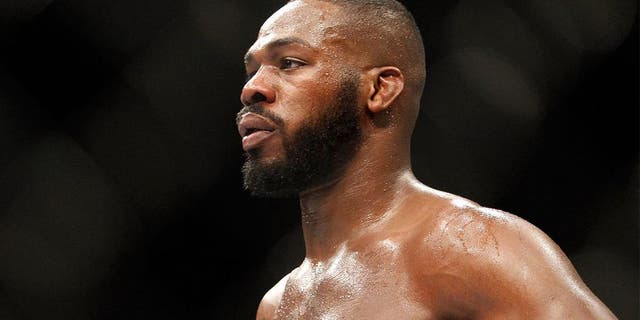 UFC light heavyweight champion Jon "Bones" Jones is due back in court this week on a traffic violation after he was recently cited for driving without a license, proof of insurance or registration.
Online documents show that Jones was stopped and cited on Jan. 31 and is due back in traffic court on Feb. 10. KRQE first reported Jones' recent traffic citation on Sunday after the documents from his citation surfaced.
According to Kayla Anderson, who is the public information officer from the Second Judicial District Attorney's office, there was no special circumstances placed on Jones with his probation regarding driving without a license.
That being said, Anderson confirms that all defendants on probation are generally required to avoid violating laws of any kind.
"Our office has the discretion to pursue a revocation of probation if an alleged incident arises to the level of a substantial violation of probation. Our office makes that determination after we have examined all the facts surrounding the incident. As of today, we do not have enough information about the 1/31/16 incident to make that determination, but we will examine the matter," Anderson said in a statement sent to FOX Sports.
"Generally, if we decide to pursue a probation revocation, and a judge determines that there has been a substantial violation of probation, it is up to our office whether we seek to revoke a conditional discharge, and it is up to the judge to ultimately decide if a conditional discharge will be revoked and sentence imposed. Those decisions are made on a case to case basis. The court can also impose a wide range of sanctions, some of which do not necessarily require the loss of a conditional discharge."
The recent traffic citation is just the latest in a long line of issues Jones has faced while behind the wheel of a car.
Jones has been stopped previously for driving on a suspended license in 2011 and in 2012 he plead guilty to a DWI charge after he crashed his 2012 Bentley into a telephone pole in his home state of New York. Jones eventually reached a plea agreement in that case to avoid any jail time.
In April 2015, Jones was arrested after a hit-and-run accident left a pregnant driver in another vehicle injured while the former light heavyweight champion fled the scene. Jones was suspended by the UFC and stripped of his title as a result of the altercation.
Finally in October, Jones plead guilty in an agreement with the state, where he was sentenced to 18 months of probation as well as community service for causing the hit-and-run accident.
Following that incident, Jones promised he was finally walking the straight and narrow after so many run-ins with law enforcement that not only caused harm to himself and other drivers but also nearly cost him his career with the UFC.
This latest traffic stop surfaces just days after the UFC announced Jones was finally returning to action on April 23 to face Daniel Cormier with the light heavyweight title on the line at UFC 197 in Las Vegas.
Over the last few months since his plea agreement, Jones has spent most of his free time speaking at schools and even jails around the New Mexico area while preparing for his return to the Octagon.
Jones is due back in court this Wednesday following the citation for this latest incident.