Jon Jones arrested on probation violation after drag racing citation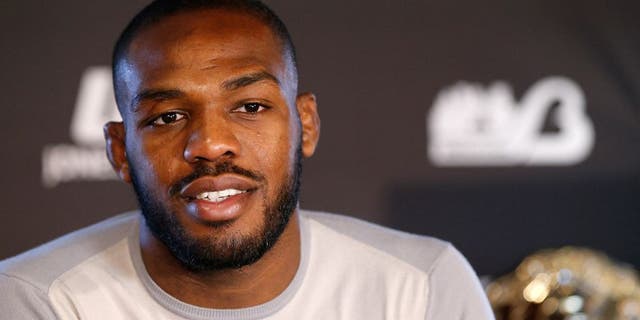 Jon Jones surrendered to police on Tuesday on a probation violation after he was ticketed for drag racing last week in New Mexico.
According to TMZ, a judge issued a warrant for Jones' arrest after he was cited for five different traffic tickets in an incident that took place last Thursday, March 24.
According to representatives from the Albuquerque police department who spoke to FOX Sports on Tuesday, Jones was arrested this morning by his probation officer and the matter is being handled by the probation department.
The Bernalillo County District Attorney's office confirmed to FOX Sports that the arrest was handled by probation services and they are currently preparing a probation violation report for the district attorney. Once that report is delivered, the District Attorney's office will review the matter involving Jones.
Jones was sentenced to 18 months probation after pleading guilty to a hit-and-run accident in New Mexico last April before settling the case in court in late September 2015.
Jones was ticketed back in January for driving without a license, registration or proof of insurance but he wrapped up that violation last Wednesday with only a $100 donation to charity and stipulations that he would not receive any further citations for the next 90 days.
A day later, Jones was flagged for allegedly drag racing, which he denied vehemently at the time of the traffic stop before arguing with the police officer who pulled him over just after he pulled out of a stoplight.
The latest traffic ticket for drag racing was enough for a judge to issue a warrant for his arrest and Jones is now in custody.
As for his fight, Jones is scheduled to face Daniel Cormier in the main event at UFC 197 on April 23 with the light heavyweight title on the line. UFC officials released a statement in the wake of Jones' arrest but as of now there's no planned changes to the upcoming card.
"UFC is aware that Jon Jones turned himself into the Albuquerque Police Department this morning for a potential probation violation stemming from a traffic stop last week," UFC officials stated.
"UFC has been in touch with Jones' legal team and will have no further comment until the organization has had appropriate time to gather necessary information."