'Joint' ad campaign with Willie Nelson was enlightening for Dale Earnhardt, Childress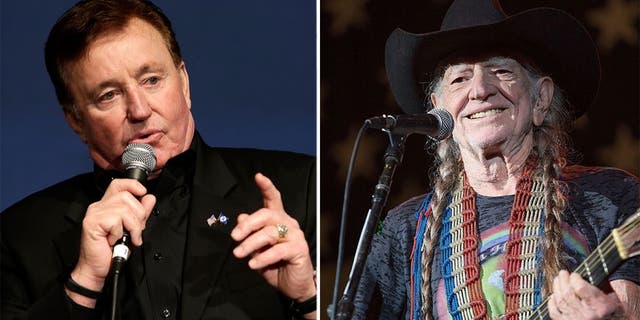 NEWYou can now listen to Fox News articles!
Car owner Richard Childress and his then-driver, Dale Earnhardt, participated in an advertising campaign back promoting Wrangler jeans back in the 1980s that also featured country-music star Willie Nelson.
In the ad, a beaming Nelson, complete with guitar, is flanked on one side by Earnhardt and on the other by Childress underneath the slogan , "Winners wear Wranglers."
Now, more than 30 years later, Childress can tell why he thinks Nelson was smiling so mightily in the ad.
"I came in from hunting in British Columbia and Dale and I ate at one of those really neat seafood restaurants there," Childress said Wednesday during a promotional event at Wrangler corporate headquarters. "We got up early the next morning for the photo shoot. Dale and I were sitting there waiting. I was expecting Willie to come out with a cowboy hat and everything."
That isn't what happened. And although Childress admitted perhaps he should not have been surprised, what happened next also caught him off-guard.
"He came out with a baseball hat on and wearing a black Member's Only jacket. That was his disguise back in the day," Childress said. "So he jumps in the limo and we shake hands. That was the first time I had met him. I'm not sure if it was for Dale.
"But he sat over there and fired up a (marijuana) joint, and started smoking on his joint. He leaned over (as if to offer it to his fellow passengers) and Dale said, 'No, we're going to drink some whiskey later.' But that's the story behind that photo shoot right there. That's why he's smiling."
Dale Earnhardt Jr. was just a kid at the time and had no idea any of that was going on.
"Dad had 'One tough customer' on the back of the car and they were cross-promoting that with Willie's tour. So it was a pretty neat deal for me at that age," Earnhardt Jr. said. "I didn't look at dad as famous or any sort of celebrity. … We were all pretty giddy that Willie Nelson was involved in anything we were doing."
Apparently, Willie was pretty giddy at the time, too.