Johny Hendricks' former nutrionist says he needs to have healthier lifestyle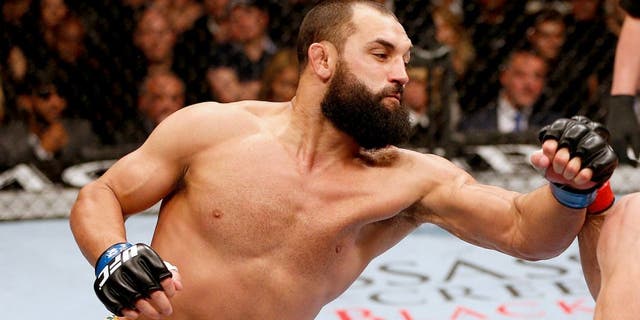 NEWYou can now listen to Fox News articles!
Johny Hendricks's former nutrition coach Mike Dolce says that a move to middleweight won't solve the fighter's problems. The former fighter Dolce last worked with Johny Hendricks in December, before the then-champion's title defense against Robbie Lawler.
Dolce has said that he wasn't satisfied with Hendricks' effort to keep himself healthy, and the fighter himself has said that the cut was a particularly bad one.
Hendricks' latest cut was so bad that he couldn't complete it. So, the former champion didn't get to fight at UFC 192 against Tyron Woodley, and promoter Dana White has suggested that Hendricks needs to fight up a class at middleweight next.
As he watched from afar, Dolce told MMA Fighting recently that he felt bad for his former charge. "I was gutted for Johny," he said.
"I was very sad for him. No. 1, I was concerned about his health, which I've been concerned about [for] awhile, knowing him and seeing the way he really mistreats his body in the off-season."
Dolce claimed that Hendricks' most recent attempt to get to welterweight was a "comedy of errors," and that "most of it falls on Johny's shoulders for coming into camp much too heavy." Dolce claimed that Hendricks' typical pattern is to get very overweight in between fights.
As the 32-year-old gets older, Dolce said that he is no longer able to do extreme and rapid weight cuts the same way he may have as a much younger man. "He's not a 19-, 20-year-old kid wrestling at Oklahoma [State]. He's a 30-something-year-old man with three babies and one on the way. He cannot do the things that he once did to his body and get away with them. I think that finally caught up with him before this fight," he said.
"That was kind of his M.O., feeling that he could get the weight off. But in your early 30s, you just can't do that. With his body-fat percentage, you're not able to get that weight off in a healthy manner. You really start to dehydrate the organs in the process. And I think that's where his body started to shut down."
Dolce says that Hendricks' weight issues are overall health issues more than they are issues of sport and competition. As such, he doesn't want the welterweight to move up to middleweight to face the much larger top fighters in that division.
Instead of battling giants, Dolce wants to see Hendricks get healthy, keep his weight down, and continue to fight men his own size. "Johny is 5-foot-8, 5-foot-9 on his best day," Dolce reasoned.
"At 185, he's fighting [Luke] Rockhold and [Chris] Weidman. That's much more dangerous, getting hit in the head by Chris Weidman, I think, than Johny taking six months and truly dedicating himself to living a healthy lifestyle."