Johnson updates status of contract negotiations with Hendrick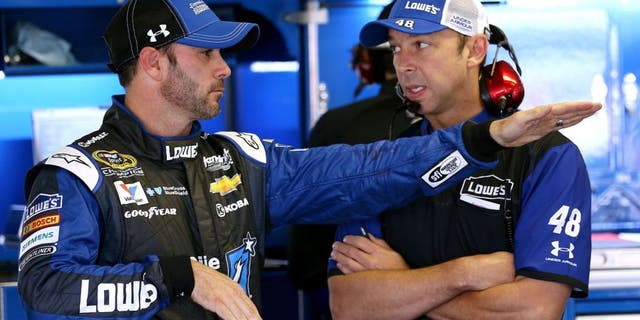 NEWYou can now listen to Fox News articles!
Jimmie Johnson doesn't sound like a man harboring any thoughts of jumping ship.
The six-time Sprint Cup Series champion, who is in the final year of a contract with Hendrick Motorsports, indicated on Friday at Indianapolis Motor Speedway that re-upping for 2016 is little more than a formality.
Johnson suggested that such is also the case for Chad Knaus, the crew chief for all six of his titles in NASCAR's top series.

"We still have, is it next year on our contract?" Johnson asked, seemingly unaware that his current deal only runs through the end of 2015. "I don't even know. We are obviously not concerned. We have been getting things buttoned up with (primary sponsor) Lowe's, with Hendrick, with Chad and myself, all of that.
" ... I'm home. It's just a formality at this point to get everything kind of finished up and done."
On Sunday at IMS, Johnson will look to join teammate Jeff Gordon as a five-time winner of the Brickyard 400, a race Johnson captured in 2006, '08, '09 and '12.

Is Johnson ready to see Gordon, who is calling it quits from full-time driving at season's end, ride off into the sunset?
"I'm not glad to see him go," Johnson said. "I've been so excited to watch Jeff win here and the success that he's had here. Even how crazy this place has been when (Tony) Stewart has won here, it's cool to see the fans get behind their guy."