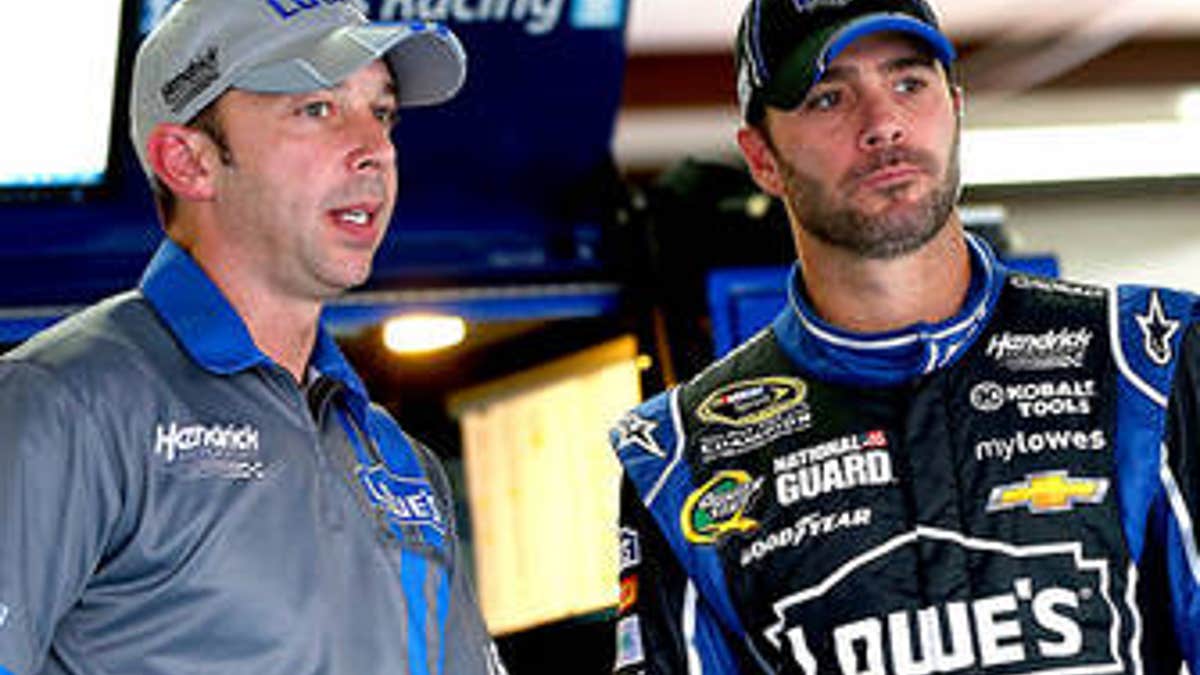 While it wasn't a stellar performance like we've come to expect from the No. 48 team Sunday at Chicago, I think they will be the first ones to tell you that they will take that fifth-place finish and are thrilled about it. Look, you have to start the Chase somewhere, and recently they have had nothing but bad luck.
They got through this first Chase race without any major catastrophe, so right now to me, Jimmie Johnson is still even money to win his sixth championship. Jimmie didn't win, but he has to get his feet back on the ground before he can. He did that Sunday night in Chicago.
I know it sounds weird saying that the No. 48 would be thrilled with a fifth-place finish, but just go back over all the weeks here lately and see problem after problem they encountered, trust me, that fifth-place finish was like a breath of cool fall air throughout the entire No. 48 camp.
It will put a lot of confidence back into them. It's like a boxer surviving a brutal first round, and is still standing. Jimmie, crew chief Chad Knaus and the team know they are a little behind, but they survived that first round and are now ready to go out there and challenge.
Jimmie had a fast race car Sunday at Chicago. We know how well he runs on the mile-and-a-half tracks. Don't forget, there are four more of these tracks in the next nine races. Sunday was a great start for them as they push for their sixth championship.
Obviously, the statistics and the five consecutive championships prove out that Jimmie Johnson is the King of the Chase. He and Chad Knaus have the ability to win races in the Chase. Like we always say, that's what it's going to take - winning races in the Chase. Also, I think people tend to forget, because of all his recent problems, Jimmie won four races this year.
So I think the stage couldn't be set any better for the Chase. The two Joe Gibbs Racing cars - Matt Kenseth and Kyle Busch are 1-2 in the points. Jimmie Johnson is third, only eight points out. Again, this was only the first race of the Chase and there are 10 other drivers who want to make their own noise. If you want to see something interesting, then go look at the final field rundown from Sunday night. Ten out of the top 12 finishers were Chase drivers.
Don't for a second overlook Kurt Busch or Kevin Harvick. Both have nothing to lose. This is the last nine races for both with their current teams. So they can swing for the fences and try to pull off the upset. I love the irony that one of these two could win the championship, and yet they both are driving for Tony Stewart next year.
So this weekend when the bell rings, it's Round Two in this heavyweight championship fight, and it all happens in Loudon, N.H.