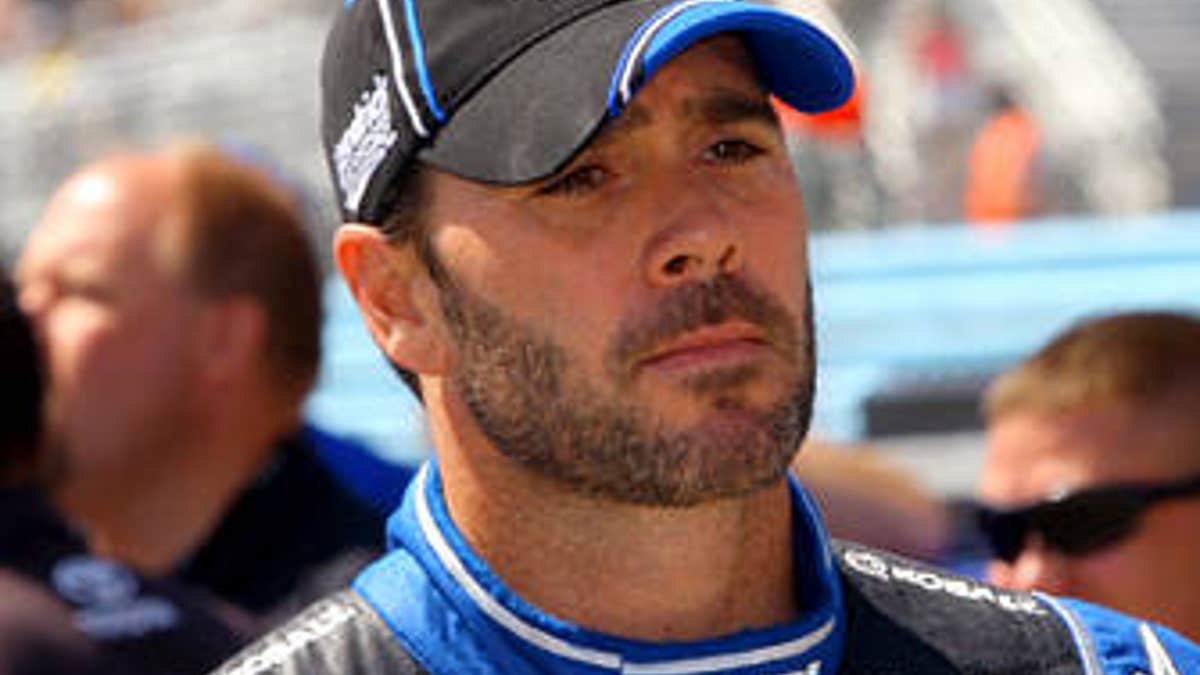 Five-time NASCAR Sprint Cup champion Jimmie Johnson has had a dominant 2013 season so far.
Johnson has led the points after 21 of 23 races this year, often by more than one full race in points.
No one has more wins than Johnson's four race victories, and no one has matched his total of 15 top-10 finishes this year.
Johnson is the only driver who already has clinched a slot in the Chase for the Sprint Cup, and he's led more laps and more miles than any driver in the series.
And yet, at times Johnson and the all-conquering No. 48 Hendrick Motorsports team have looked more vulnerable than they have in years. Despite the unquestioned speed in Johnson's Chevrolets week after week, his otherwise brilliant season has been marred by a series of bad pit stops, poorly executed restarts, unusual mechanical maladies and unforced errors.
Yes, Johnson has four victories this season, tying him for the most in the NASCAR Sprint Cup Series. But he just as easily could have had six or seven or maybe even eight by now. And the fact that he doesn't gives some hope to the competition.
Here are the five drivers who right now look like they have the best shot at derailing Johnson's run for a six-pack of titles.
1. CLINT BOWYER -- While critics are quick to point out that Bowyer is winless on the season, he is second in points right now. In fact, over the last 10 races, Bowyer has outscored Johnson by a margin 349 points to 340. In those last 10 races, Bowyer and Johnson have each finished ahead of the other five times. A more salient factor is the fact that Bowyer did finish ahead of Johnson in the points in the last year, so he and his Michael Waltrip Racing team are unlikely to wilt under pressure.
2. KYLE BUSCH -- From the time he was a rookie, Busch was always blindingly fast. Now, he's got the maturity and composure to go with the natural talent. Busch already has three race victories this season and he has been much more consistent than he has been in years past. Historically, Busch has not finished the year strongly, but that changed last year, when he missed the Chase but went on a roll over the final 10 races. If he does that again this year, he could win his first Sprint Cup championship.
3. KEVIN HARVICK -- When Harvick announced last November that 2013 would be his last season with Richard Childress Racing, a lot of folks assumed that meant he would struggle this year. Nothing could be further from the truth. Already, Harvick has two race victories this season, and over the last 10 races of the season, he has earned more points than any other driver. He and the No. 29 team just need to keep doing what they've been doing.
4. BRAD KESELOWSKI -- The strongest argument for a Keselowski championship is that he's already gone mano a mano with Johnson for the 2012 title and emerged victorious. And after a mid-season slump brought on by the Texas points penalty, Keselowski, crew chief Paul Wolfe and the rest of the No. 2 Penske Racing crew have got things going in the right direction. Do not underestimate him.
5. KURT BUSCH -- Making the final pick is toughest; Matt Kenseth won four races earlier this season, but has cooled way off lately, while Kasey Kahne lacks the consistency and Carl Edwards and Greg Biffle lack the speed. Busch still could miss the Chase. But if he makes it in, he is going to be awfully tough because he's a past champion, and the Furniture Row Racing Chevrolet has been fast everywhere this year.
Whether anyone can knock of Johnson remains to be seen, but this much is certain: A sixth championship for the El Cajon, Calif., native remains possible, but it no longer seems like the slam dunk that it did a month ago.