Johnson: Even a bad day works out for five-time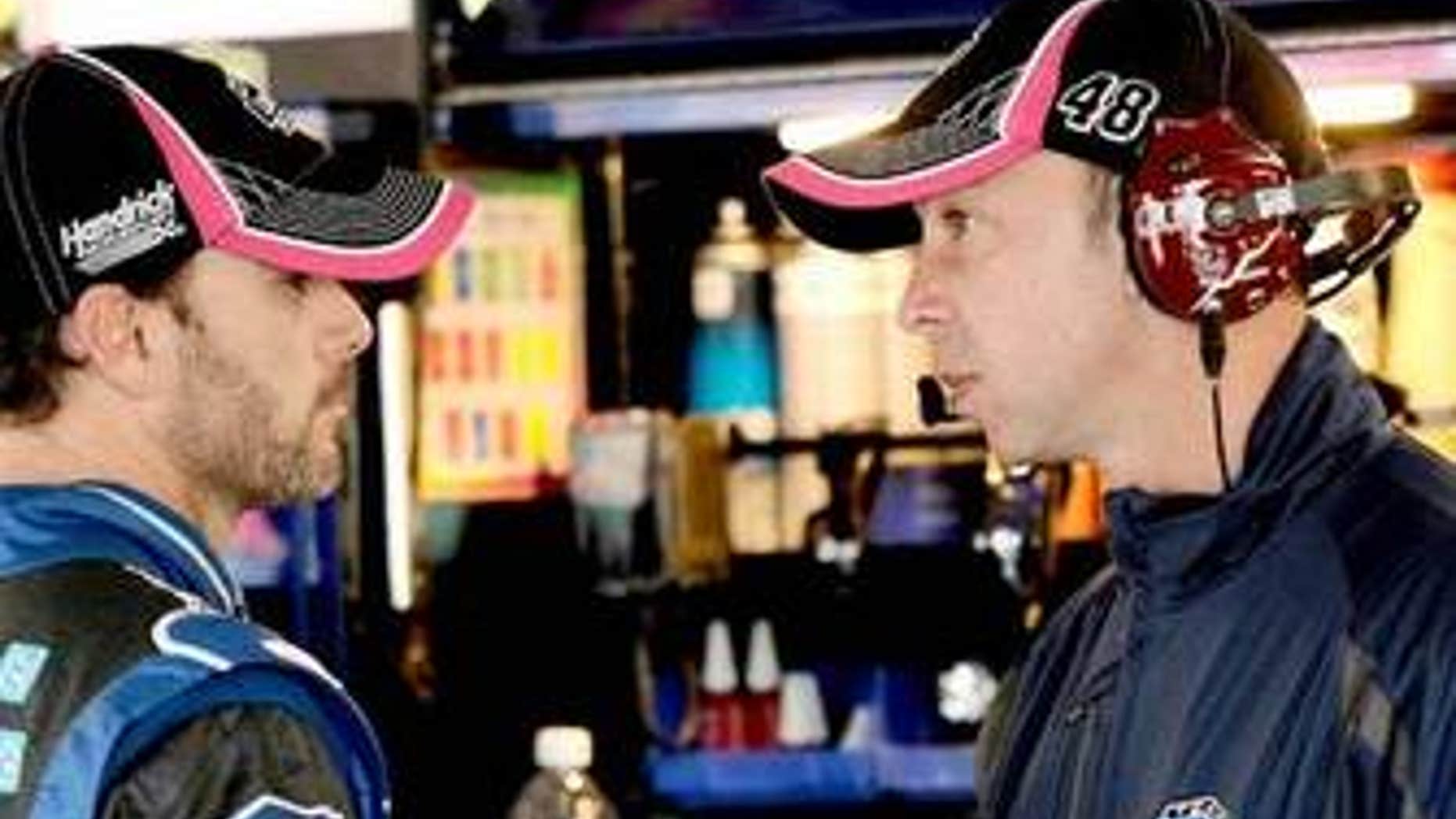 Jimmie Johnson has seen a lot of unusual races in his day. But Sunday's Hollywood Casino 400 at Kansas Speedway has to rank way up there in just sheer weirdness.
Johnson had an extremely fast car all day long and managed to lead six laps on the afternoon. But his setup was somewhat bipolar, in that the No. 48 Hendrick Motorsports Chevrolet was awful on restarts and really, really fast on long runs.
Whenever there was a caution flag, it seemed like Johnson would always lose four to six positions with each restart, only to run the field down as the segment went on.
Unfortunately for Johnson, Sunday's race was plagued by a track-record 15 caution periods, the most of any NASCAR Sprint Cup race of the season.
"All in all it was just a crazy day," Johnson said. "Weird restarts. Wacky restarts. A lot of chaos there. And then caution after caution for who knows what."
In addition, twice, he lost a number of spots in the pits. The first time was on Lap 87, when he came down pit road just as the caution flew for debris, forcing him to abort a planned stop. Johnson also dropped several positions on his final stop on Lap 230, as he was held for a couple of extra seconds to make sure his fuel cell was full.
Worse yet, on the penultimate lap, his engine started to vibrate and shake, while he was running fifth. Johnson was forced to back off and settle for sixth, behind race-winner Kevin Harvick, Kurt Busch, Jeff Gordon, Joey Logano and Carl Edwards.
Given that Johnson still managed to finish five positions ahead of Matt Kenseth, who had his worst race so far in the Chase for the Sprint Cup, it wasn't like the day was a total loss. Far from it. With four of 10 Chase races in the books, Johnson is second in points, just three points back of Kenseth. And this was just the second time in nine races this season at 1.5-mile tracks where Johnson has finished ahead of Kenseth.
Although this was Johnson's worst finish in the Chase so far this year, he is now the only driver to finish in the top 10 in all four Chase races. And he was happy to escape Kansas with a good points race.
"These cautions kept coming out and they hurt us each time," said Johnson. "So we rebounded from all that and passed a ton of race cars, and then on the last lap with I guess two to go, coming down the back, the car started shaking real bad and I thought it was over.
"But I limped it around and got it to the finish line," said Johnson. "It started running again down the back coming to the checkered, so I was able to at least maintain over whoever was in seventh there and get it back. So, we went through a lot today and overcame a lot today. I'm very happy and proud of this Lowe's team. We got a little points on the No. 20 (Kenseth) and put a bunch on the No. 18 (Kyle Busch) so in the big scheme of things, it was a very good day for this Lowe's team."