Johnny Manziel's NFL workout draws former President George H.W. Bush, Barbara Bush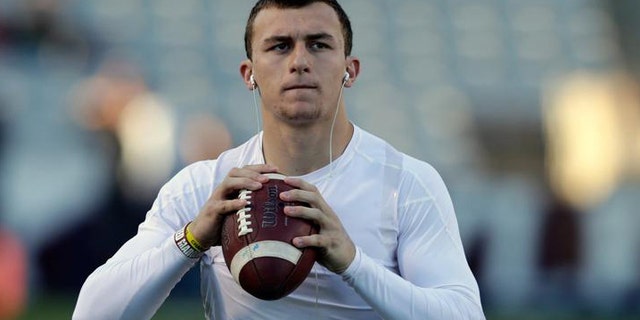 Johnny Manziel drew more than just pro scouts to his official workout for NFL teams preparing for the annual draft, with former President George H.W. Bush and wife Barbara attending.
The Texas A&M quarterback and 2012 Heisman Trophy winner known for his gridiron gunslinging is expected to go high in the draft, which begins on May 8. Top-rated players such as Manziel typically take part in "pro-days," where NFL scouts put them through various running and throwing drills, as well as sitdown interviews.
The events have become spectator sports themselves in recent years, as pre-draft hype reaches a fever pitch. The former president, a longtime Texas A&M fan, has previously met Manziel and his family.
[pullquote]
"Barbara and I are Aggies to the core," Bush told USA Today last year. "We have always respected the traditions and values that Texas A&M represents, so it's not been hard for us to root for the Aggies on or off the field."
The George Bush Presidential Library and Museum is located on A&M's campus in College Station.
Manziel could end up staying in Texas. The Houston Texans have the top pick, and it is no secret they need a quarterback.
"With a guy like Johnny, you can't box him into a certain way of playing," Texans Coach Bill O'Brien told the Houston Chronicle. "He's been successful since he was probably 4 or 5 years old playing the way he plays. We have a system that's very adaptable to many different types of quarterbacks. We have move-the-pocket type plays. We have drop-back plays. We have option plays."