Johnny Manziel likely out Saturday for Browns with sore elbow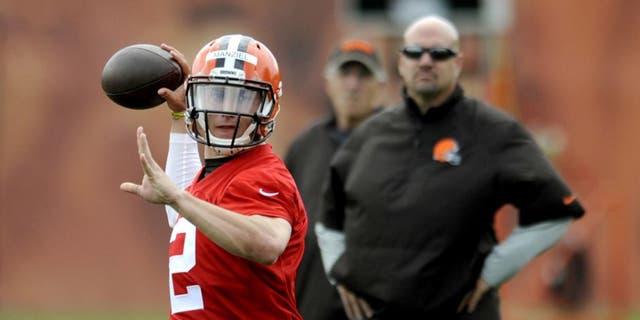 Browns quarterback Johnny Manziel will likely miss Saturday's third preseason game in Tampa Bay with a sore right elbow.
An MRI on Manziel's throwing elbow showed no structural damage, head coach Mike Pettine said after Wednesday's practice per Northeast Ohio Media Group. Pettine had indicated earlier in the week that an MRI wouldn't be needed, but the team decided it was the best course of action since this is the second flare up for Manziel this training camp.
"We just wanted to confirm there was nothing structural, and that is the case," Pettine said. "The MRI was certainly a positive result."
Manziel, who has experienced elbow soreness since his high school days, could play this weekend if it were the regular season, but Pettine found no reason to push it in the preseason.
"It hasn't come back as quickly as we had hoped," Pettine said. "To be cautious, we didn't want to rush him back now for a preseason game and have it be something that is chronic."
Former Browns quarterback Tim Couch experienced similar issues during his time in Cleveland, and told Northeast Ohio Media Group that Manziel should rest his arm until it's 100 percent. Couch attributes the shoulder surgeries he had later in his career to not allowing his elbow soreness to heal completely. The lingering pain in his elbow led Couch to subconsciously alter his throwing motion, and it took its toll on his shoulder.
"I'm not suggesting that's going to happen with Johnny by any means, but that's kind of what happened to me and kind of the root of what started off my shoulder issues," Couch said. "Really, the only way to heal it is to take time off and not use it, and obviously that's not going to happen for a quarterback, especially this time of year. So, it's just tough to get it healthy and get the inflammation down.''
If Manziel does indeed sit on Saturday, third-string quarterback Thaddeus Lewis would likely step in to relieve starter Josh McCown. Pettine said the team will discuss adding another quarterback since Connor Shaw is also out due to thumb surgery.
h/t: Northeast Ohio Media Group