Johnny Manziel had 'disturbance' with ex-girlfriend, not arrested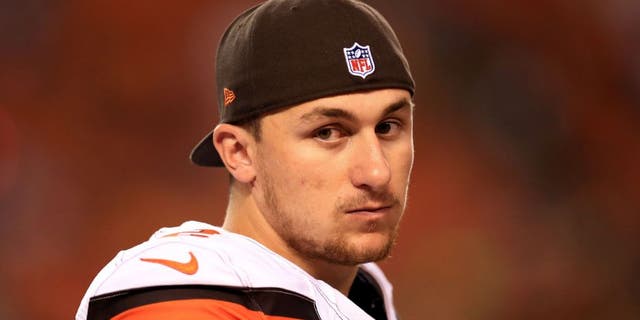 Johnny Manziel was involved in what was termed a "disturbance" with his ex-girlfriend early Saturday morning.
Fort Worth, Texas, police confirmed that while the Cleveland Browns quarterback was involved in some sort of incident, he was not arrested. The police then released a statement:
It reads as follows:
At approximately 2 a.m. on January 30, 2016, patrol officers were dispatched to 2101 Park Hill Drive (The Berkeley Apartments) in reference to a report of a possible assault.
Upon arrival, officers did not locate the caller, but did make contact with a 23 year old female who stated that she was involved in a disturbance with her ex-boyfriend (23 year old male suspect) earlier in the evening in Dallas.
The preliminary investigation determined that a possible assault had occurred in that jurisdiction or multiple jurisdictions. The complainant was uncooperative with officers on scene, and they were unable to locate a crime scene within the Fort Worth jurisdiction, however, our officers prepared a report nonetheless, and that information was forwarded to detectives for further investigation.
The Dallas Police Department was notified of a possible disturbance, so any questions regarding their jurisdiction should be submitted to DPD.
The complainant also advised our officers of concerns that she had regarding the well-being of her ex-boyfriend. In an effort to follow-up on this, Fort Worth officers attempted to locate him, by calling cell phone numbers associated with him, checking locations within our jurisdiction, and searching the area with the assistance of our Air One Unit.
It was later determined by officers that the ex-boyfriend was safe and in no danger. The Fort Worth Police Department is actively working with Dallas PD to determine if a criminal offense occurred.
The Dallas police responded with their own statement.
NFL spokeman Greg Aiello said the league is "aware of it and looking into it." The Browns had no comment as of yet.

Manziel was pulled over by Ohio police back in October after being seen fighting in his car with his girlfriend, Colleen Crowley. The latter told police at the time that Manziel hit her a "couple times." She also made it clear that she did not want to press charges. And although both admitted to drinking earlier in the day, neither was arrested.
Manziel was drafted in the first round by the Browns in 2014. And his two-year stint with the team has been rocky at best.
Most recently, he was scratched from the team's 2015 regular-season finale because of what was deemed a concussion, but failed to show up for required medical treatment on the day of the game. Word had spread through social media that Manziel had been spotted in a Las Vegas casino the previous night.

With new head coach Hue Jackson taking over, it's unknown if Manziel will even be back with the team this season.