Johnny Backburner? Manziel mania taking backseat as Browns face Steelers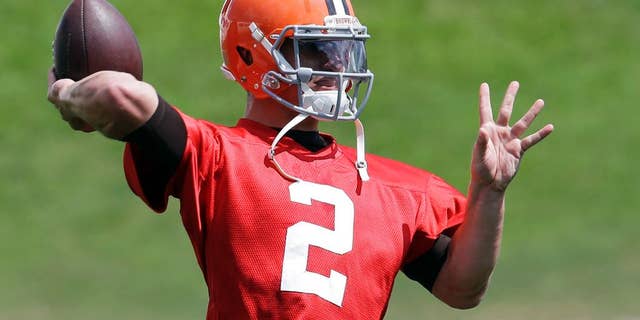 NEWYou can now listen to Fox News articles!
PITTSBURGH – Brian Hoyer did his best to avoid the hype when the Cleveland Browns drafted Johnny Manziel and the unavoidable chaos that seems to follow the Heisman Trophy winner wherever he hangs his helmet.
No TV.
No Twitter.
No Facebook.
No newspapers.
And really, no pressure.
"It's like you are living in the 60s or 70s," Hoyer said. "You aren't getting caught up in it. It actually makes life pretty simple."
Four months later, Hoyer remains Cleveland's starting quarterback — for now anyway — heading into Sunday's opener against Pittsburgh. Keeping Manziel at bay moving forward will require an equally simplistic approach.
"I'm not saying that I come out here every day thinking that 'I'm going to lose my job,'" Hoyer said. "I honestly feel more secure (now) than I ever have. I just think that it's always good to have that chip on your shoulder and know that you're always trying to prove people wrong and prove yourself right."
While Hoyer has won over new head coach Mike Pettine, the Steelers are expecting to see Manziel take the NFL's top selling jersey onto the field and into the huddle at some point to see if the man matches the mania. And to be honest, they don't really care.
"No matter what there's only going to be one quarterback at a time," Pittsburgh defensive end Cameron Heyward said. "So we look forward to playing both and getting after it."
The Steelers don't really have much choice if they want to avoid the miserable 0-4 hole they built themselves last fall. An impressive second half helped Pittsburgh sidestep its first losing season in a decade, a cosmetic morale victory that did little to blunt another offseason roster overhaul.
LaMarr Woodley is gone. So are Larry Foote and Ryan Clark. Emmanuel Sanders and Jerricho Cotchery, too.
In their places are a slew of youngsters who lack Manziel's Q-rating, but could have a considerably higher impact on Pittsburgh's fortunes this season than what happens in Cleveland.
Pittsburgh's first-round pick Ryan Shazier — quietly taken seven spots before the Browns landed Manziel — will be the first rookie outside linebacker to start the opener for the Steelers in 13 years.
"It means the guys coach me and the coaches trust me," Shazier said.
It's the kind of trust that Manziel is still trying to build with the Browns.
Johnny Football's time will come.
Eventually.
Whether it starts on Sunday depends largely on the guy in front of him. Hoyer, who went 3-0 last season before tearing the ACL in his left knee, likes his odds.
"You always think you can do it," he said. "And then you finally get a chance to go out there and prove it to yourself, it just builds confidence."
Here are some things to look for besides the Manziel/Hoyer watch as the 2014 season begins.
WHAT RIVALRY? There was a time — you can look it up — when the Steelers and Browns used to serve as one of the NFL's more physical if underappreciated showdowns.
Not so much anymore. Pittsburgh hasn't lost to the Browns at home in a decade and quarterback Ben Roethlisberger is 17-1 against Cleveland with 27 touchdowns against just 12 interceptions.
Roethlisberger will get a chance to add to those numbers with an offense he's called the most explosive — at least on paper — he's worked with during his 10 seasons under center. An expanded no- huddle offense that sparked Pittsburgh's 6-2 second half in 2013 also gives Roethlisberger more freedom to attack Cleveland's defense.
PITTSBURGH PETTINE: Pettine's debut will be a sort of homecoming. Although he's from the eastern end of Pennsylvania, Pettine has some roots in the Steel City.
"I coached at University of Pittsburgh for a while, lived there. I got married there, had a first child there, have some definite ties back to Pittsburgh," Pettine said. "There is some family there. There are some strong Pitt connections, not just with the staff but with the players, as well."
BELL AND BLOUNT: The Steelers signed free agent running back LeGarrette Blount in the offseason to provide a thudding yin to second-year starter Le'Veon Bell's nimble yang. The partnership is off to a bumpy start. Both players face misdemeanor marijuana charges following a traffic stop on Aug. 20. Police also charged Bell with DUI. Neither back has been disciplined by the NFL yet and are expected to be in the lineup on Sunday.
NO JOSHING: While Blount and Bell's legal issues won't prevent them from playing this Sunday, Cleveland wide receiver Josh Gordon will miss the entire season for repeated violations of the league's substance abuse policy. The Pro Bowler's absence leaves a massive void that will make it difficult for whoever is taking snaps for the Browns to cope. Tight end Jordan Cameron is the best holdover option after catching 80 passes a year ago.
OPENER WOES: The Browns are 1-14 in season openers during their expansion era. Cleveland has lost nine straight openers since quarterback Jeff Garcia led the Browns to a 20-3 win over Baltimore in 2004.
Pettine is aware that teams starting 0-1 have a statistically tougher time getting to the playoffs, but he won't overreact if it doesn't go Cleveland's way.
"This is a long season," he said. "I know what the stats are about the opener, but I don't think you can get consumed with that. More importantly for us, it's a division game. It is a long year, and we'll be ready."
___
AP Sports Writer Tom Withers in Cleveland contributed to this report.
___
AP NFL website: www.pro32.ap.org and www.twitter.com/AP_NFL