John Terry will leave Chelsea at the end of the season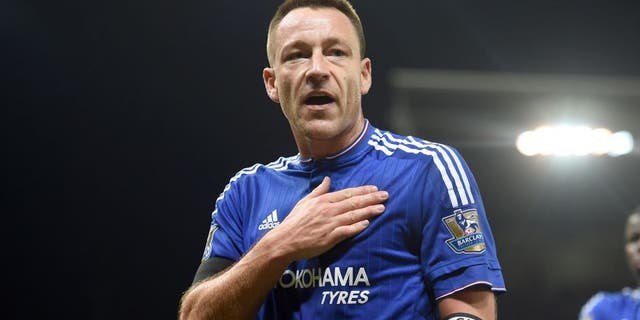 Chelsea captain John Terry has announced he will leave Stamford Bridge at the end of the season after the club decided not to renew his contract.
The 35-year-old central defender has spent his entire career at Chelsea and last May won the Premier League title for the fourth time.
Terry was informed prior to last week's win over Arsenal.
He said: "I was in last week before the Arsenal game and it (my contract) is not going to be extended.
"It's not going to be a fairytale ending, I'm not going to retire at Chelsea."
Chelsea have endured a season of struggle, with manager Jose Mourinho leaving for the second time in December, and now their talismanic skipper will be moving on.
There is one small glimmer of a playing future for Terry at Chelsea, if Mourinho's permanent successor deems his services are required.
Terry added: "Ideally I would have loved to stay, but the club's moving in a different direction.
"I needed to know now like I have done every January and sometimes it takes a couple of months to get done. Unfortunately, it was a no.
"They said that when the new manager comes in, things might change. It's a no at the minute.
"It took me a couple of days to get over."
Terry, who has made 696 appearances for Chelsea, has no plans to play for another English club, but his next destination is still to be determined.
He said: "I couldn't play for another Premier League club. It will be elsewhere for sure.
"I don't know where and I leave that to the people in charge."
The former England captain, who joined Chelsea aged 14, added: "The club will move on. No player is ever bigger than the club.
"No doubt they'll sign one or two great centre-backs.
"I want to come back as a Chelsea supporter in years to come with my kids and see the team doing great.
"Unfortunately that's not going to be with me, but I want to see the team do well.
"It's going to be my last year and I want to go out at the top.
"We spoke about my legacy and coming back to the club when I finish. The most important thing now is to get us up the league."
Terry's star has waned at Chelsea from last season, when he was a pivotal figure in Chelsea's first Premier League title in five years.
The defender played every minute of all 38 Premier League games.
But in the second Premier League game of this term, at Manchester City, Terry was substituted at half-time in a 3-0 loss.
Terry was not an automatic choice thereafter.
He came out in support of the Portuguese, denying speculation of a falling-out, but Mourinho was sacked nonetheless in December.
Terry's season high point so far was a controversial late goal against Everton two weeks ago.
He was offside when he scored eight minutes into stoppage time to earn a 3-3 draw.
Afterwards Terry spoke of his desire to stay on at Chelsea, while Hiddink sang his praises.
Yet now it will be a long goodbye.