John Lineker: I can KO Dominick Cruz and TJ Dillashaw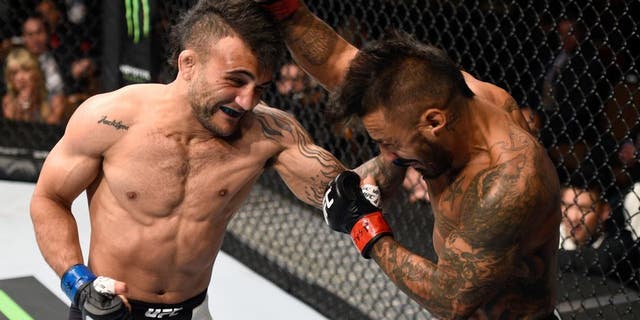 NEWYou can now listen to Fox News articles!
After repeatedly failing to make the flyweight limit, top contender John Lineker was forced by the UFC to move up a class and fight at bantamweight, where before he entered the promotion. That's why at UFC 191, last month, the Brazilian faced Francisco Rivera.
Though he believed that he'd be at a strength disadvantage against bantamweights, Lineker recently told Guilherme Cruz that he felt at home during his war against the larger Rivera.
"I thought I would be weak compared to the other bantamweights in the UFC, but I felt pretty well," he claimed.
Part of that might be because the 5-foot-2-inch fighter still has to drop a lot of weight to make bantamweight -- just not as much as he did at flyweight. "I still cut a lot of weight to fight at bantamweight, but it's not like it used to be, before," he explained.
He also has the advantage, now, of being able to fight more frequently because he does less damage to his body by dropping less weight. "I believe I can fight more often now," he said.
"I had to wait five months between fights to make 125 pounds, so I can fight more now that I'm at 135."
Now that Lineker fights at 135 pounds, he also wants to shoot for a title shot, soon. Though he'd be a big underdog, the slugger believes that he can knock out the division's best, including former champion Dominick Cruz and reigning king TJ Dillashaw.
"For sure," he boasted.
"They move a lot but that's not a problem. They would have to get closer to hit me, and once you get closer, I'm hitting you back. I would not hunt them down. I would let them come [to me]."
Lineker has won three straight fights, and seven out of his last eight, in all. Still, he has only one bantamweight win in the UFC, but he believes that if he produces more classics like he did with Rivera in September, he'll be on the short list of 135-pound title contenders.
"I hope my next fight is against a top five [contender]," he concluded.
"I won't pick and choose, but I hope they give me a top 5 so I can get closer to the bantamweight title. One or two more intense wins like this last one, and I think they could give me a title shot."