John Harbaugh, Jay Gruden get into shouting match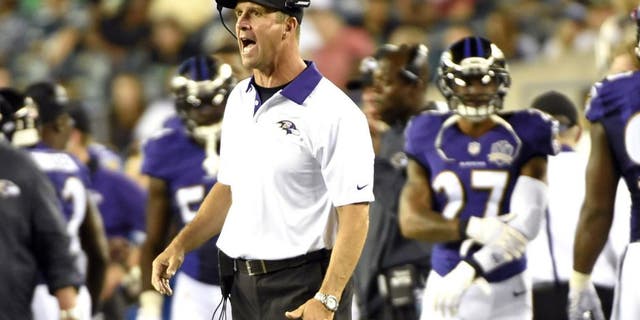 NEWYou can now listen to Fox News articles!
John Harbaugh and Jay Gruden had to be separated after getting into a shouting match during the first quarter of Saturday's preseason game between their teams.
A scuffle broke out after a third-down play because of the way Redskins linebacker Keenan Robinson drove Ravens receiver Kamar Aiken into the ground following a catch. Harbaugh ran onto the field to try keeping wide receiver Steve Smith Sr. away from Washington's bench, and that's when he and Gruden got into it.
Gruden tried to pin most of the blame on Harbaugh when talking to the referees, while Harbaugh shared a smile with his assistants after returning to the sidelines.
Steve Smith and Chris Culliver were ejected for fighting after the play.
More from Larry Brown Sports: