John Dodson wants to be the savior of the flyweight and bantamweight divisions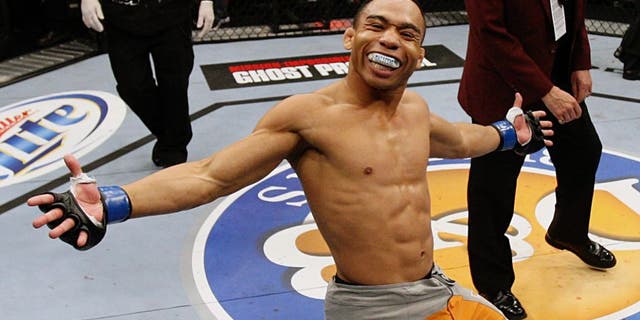 UFC 191 main event fighter John Dodson is well aware of the perception that the flyweight division just hasn't caught on enough with fans to sell a Pay-Per-View, but he believes the problem lies with the champion and not the weight class.
Dodson has been quite vocal in the lead-up to his upcoming rematch with Demetrious Johnson, asserting that the only flyweight champion the UFC has ever known is the biggest factor why fans just don't seem to care much about 125-pound fights.
Johnson has struggled to draw fans into the fights where he's headlined cards, but Dodson plans to change all that on Sept. 5 when they meet at UFC 191.
Dodson has no problem mixing in a little entertainment to go along with winning his fights, and that's why he believes the world will be on his side when it comes time to face Johnson next weekend in Las Vegas.
Actually according to Dodson, it's the reason why there are so many people asking him to knock out bantamweight champion T.J. Dillashaw again as well.
"That's why people want to see me fight Demetrious Johnson or T.J. Dillashaw. Because I actually do something that's tremendous and action packed," Dodson told FOX Sports. "I have power and I don't lay on top of you and have a boring fight. They want to see the (Floyd) Mayweather and Manny Pacquiao of this division -- that's me.
"They want to see somebody that's just boring, that's DJ. He gets everything and can't sell it."
Now there is definitely an argument to be made that Johnson hasn't had much help in selling his past fights considering the competition he's faced in the last couple of years. Johnson battled Chris Cariaso at UFC 178 in a fight where he walked into the Octagon as a massive favorite while facing an opponent who was barely clinging onto a spot in the top 10.
The same could be said for both Ali Bagautinov and Kyoji Horiguchi, who were serviceable fighters, but neither really seemed ready for a title fight against someone as good as Johnson at the time. The results proved that theory correct and while Johnson cruised to victory in both, neither did much to raise his popularity amongst MMA fans.
This time around, Dodson is confident that he will not only beat Johnson but people will tune in to watch him do it. In all actuality, Dodson believes he's probably the only reason people will care about the UFC 191 main event.
"I'm already the reason people want to see this fight," Dodson said. "They don't even have to worry about Demetrious Johnson. Demetrious Johnson isn't going to be pulling in any eyes, no people want to come and watch him. People want to see him get knocked out and I'm going to be the one to do it."
Dodson is ultra-confident going into the fight with Johnson and if things work out well, he'd like to eventually get a rematch with Dillashaw as well just to prove that his first knockout over the future bantamweight champion was no fluke
Dodson beat Dillashaw in 2011 in "The Ultimate Fighter" season 14 finale where he won the first season to ever feature the bantamweight division.
"When I get tired of being the 125-pound champion, I'll up a weight class and strip the 135 pound champion of his belt," Dodson said. "I already beat him once and I know I can do it again."
The way Dodson sees it, Dillashaw suffers from the same kind of ineptitude as Johnson when it comes to drawing fans in to see them fight. He knows there's more to it than just showing up on fight night and putting on a great performance.
Dodson loves putting on a show before, during and after a fight and that's something he believes is sorely lacking in the champions at 125 and 135 pounds, respectively. He hopes to change all that starting on Sept. 5 at UFC 191.
"I'm going to be the savior of not only this division, but 135 as well," Dodson said.
"We've already seen what T.J. Dillashaw has done against the guys who stand up with him and pressure him here and there, but here's a few true things -- I'm going to knock out T.J., I'm going to win the crowd over and everybody will be saying 'John Dodson's such a great fighter, we love him, he hits people and they fall down!'."