John Brown, J.J. Nelson bring Smoke and Fire to Cardinals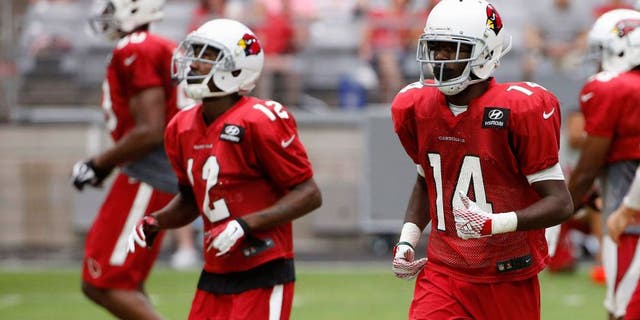 GLENDALE, Ariz. -- Smoke and Fire are sweeping through Arizona Cardinals training camp.
Smoke is wide receiver John "Smokey" Brown, entering his second NFL season as a significant part of the team's prolific passing attack.
His training camp roommate, rookie J.J. Nelson, has become Fire.
Both are small and fast -- very fast.
"Wherever you see Smoke you see Fire," coach Bruce Arians said. "That's his nickname now. He's always in Smoke's hip pocket, following him around, and that's a good thing."
Nelson, a quiet fifth-round draft pick out of Alabama-Birmingham, smiles when asked about the "Smoke and Fire" nicknames.
"It's pretty nice," he said. "I like it."
Brown likes it too.
"I actually sent him a picture that someone made on Instagram with the Smoke and Fire," Brown said. "He was excited about it."
Brown, a third-round draft pick out of Pittsburg State, was the talk of camp a year ago and went on to have a big rookie season, catching 48 passes for 696 yards and five touchdowns, including a memorable 75-yard reception from Carson Palmer with 1:21 to play to beat the Philadelphia Eagles.
Brown returned this year with more upper body strength, confident and comfortable in his role.
"I left the fast food alone," he said. "I don't drink sodas no more. I feel real comfortable. I'm in the best shape I've ever been in. I can run the deep ball, come back and run another deep ball, and I'm barely tired."
Palmer said Brown's potential is "limitless." This week in practice, the two connected on a beautiful long touchdown pass, the ball traveling some 65 yards through the air and finding Brown in stride.
"I was full speed from the get-go," Brown said. "Carson will let it rip. You can't lollygag. You've got to hit it full speed, full speed at all times."
Arians said Brown "is playing faster than he ever played last year, because he knows what he's doing, no hesitation. He sees coverage, he sees blitzes and all those things. He's playing extremely well right now."
Brown, who says he has had the nickname Smokey all his life, is proving to be the perfect mentor for Nelson, who might be the faster of the two.
Nelson had the fastest 40-yard time at the NFL Combine at 4.28 seconds. But he is just 5-foot-10 and 160 pounds, compared with Brown's 5-11, 179. His size is probably the reason he fell so far in the draft.
Nelson struggled in summer workouts but training camp has been another story.
"He may be real quiet and reserved, but I think he's got a little swag to him now," Palmer said. "I think he's kind of realizing, `Maybe I can play in this league. Maybe I'm not too small. Maybe I'm not too skinny,' ... It's easy to maybe believe some of that stuff and I think he's realizing, `Man, a lot of people were wrong about me.'"
Nelson, also in the mix to be the team's punt and/or kickoff return man, said Palmer talks to him about that every day.
"He always asks me, `Do you trust me? Do you feel like you belong in this league?'" Nelson said. "I feel like I can play. They wouldn't draft me if they didn't think I could play."
With Michael Floyd out with dislocated fingers, Nelson has had more practice time with the first team. Often, he and Brown are on the field at the same time. Add speedy running back Andre Ellington to the mix and it's hard to imagine a faster trio of players on any NFL team.
"Pick your match," Brown said. "If you try to go on two, you've got one that's going to be open. You've got to pick and choose."
Notes: Arians said Thursday that the battle for the punting job between Dave Zastudil and Drew Butler is even. ... The coach said Ellington, sidelined since early in camp with a hamstring injury, is close to full speed and is expected to play in the preseason opener Saturday night against Kansas City. ... Palmer had a regularly scheduled day off on Thursday.