Joey Logano on figuring out recent struggles: 'It is process of elimination'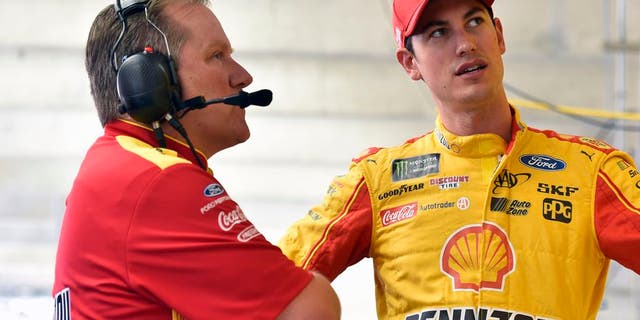 NEWYou can now listen to Fox News articles!
BROOKLYN, Mich. -- Arriving at Michigan International Speedway was a welcome sight for Joey Logano.
Since his encumbered victory at Richmond International Raceway in April, Logano and the No. 22 Team Penske brigade has had their fair share of difficulties, recording finishes of 21st or worse the past five races.
But Michigan is one of Logano's strongest tracks. Along with a 12th-place average finish in 16 career races at the two-mile oval, he's also the defending winner of Sunday's Firekeeper Casino 400 (2 p.m. ET, FS1).
"Anytime you come to one of your best race tracks like here at Michigan, especially the way our last month-and-a-half has gone it is a confidence builder for sure," Logano said.
Logano posted the third-fastest time in opening Monster Energy Series practice Friday morning, which also gives them a solid foundation to have a strong weekend.
"To be able to unload today (Friday) with decent speed, then switch to qualifying trim and find more that last run is definitely a nice turnaround for us," said Logano. "We have been lacking a little speed but this seems like the best race track for us to turn this around."
Unfortunately for Logano, there's no magic wand to wave over his car to make all the issues go away. It's a work in progress and it won't happen overnight.
We have about 15 areas we think," Logano said about pinpointing the issues. "Alot of it is process of elimination. I think there is a certain area we think we can get better but it takes a lot of time to fix that. It is not just a spring or wedge. Believe me, we have changed every spring we can change in these things."
In order to move forward, Logano said the team, led by crew chief Todd Gordon, needed to "go back and "relearn some things."
"Some stuff that worked in the past dont work with this package," Logano said. "We have had to find something new to make us successful and we all understand that. We understand if we work together we will get through it. With that in mind, this whole team sticks together and keeps fighting to persevere."
Although it's been somewhat of a guessing game, Logano feels they are hitting on something.
"Over time we should be able to get back where we want to and already we are moving that way," Logano said. "We are balancing our cars better and trying to get to where we can get into the corner better. That seems to be our biggest lack right now, the entry of the corners. We are trying to fix that.
"It seems weve made a decent step this week," he added. "It seems like we are in a step in the right direction. We will keep working.
Despite disappointing finishes and a rash of bad luck, there is no panic or concern for Logano and the No. 22 squad, as they know they can get hot at any moment because they've done it before.
"This team has been racing for a championship the last three years and have come very close the last three years in a row," Logano said. "Nothing has changed. It is the same group, the same people and we didnt forget how to do things. We are just going through a little rough period."
autostock/Brian Czobat | Brian Czobat / autostock 271 Fryling Ave SW Concord, NC 28025 W 704.786.2919 C 704.904.2745