Joey Logano loses second wedding ring in Victory Lane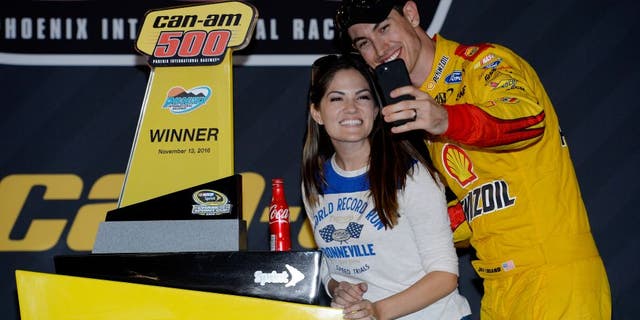 Joey Logano has a chance to get a NASCAR Sprint Cup championship ring next Sunday at Homestead-Miami Speedway, but he might want to pay a little closer attention to his own wedding ring.
Logano married the former Brittany Baca in December 2014. Shortly thereafter, he lost his wedding ring when he flipped over in a kayak in a creek while vacationing in Costa Rica. That necessitated him going to a backup wedding ring.
And after winning Sunday's Can-Am 500 at Phoenix International Raceway, Logano lost his second wedding ring. Fortunately, a quick-thinking Team Penske crew member found it in Victory Lane and returned it.
Good thing, too, given that Brittany was at the race.
Asked what happened, Logano said he was unsure.
"I know I had it before I got out of the car, and I don't know, after that, I was so excited, my hands were wet, and it just kind of slipped, I guess," he said. "I don't know. I was actually sitting down doing an interview with Claire (B. Lang, radio reporter), and I sat down, and I usually play with my ring a lot, and I looked and I said, 'Oh, no, my ring is gone. Not again.'"
It was not a good moment in an otherwise triumphant day.
"It's that same feeling when I lost it the first time," said Logano. "I was like, 'Oh, no, my ring is gone.' But at least we found it this time. That's really cool. That's good."
Then he added, "Good thing she (Brittany) doesn't lose her ring. My ring don't cost that much."
That's true, of course.
Still, it probably isn't the kind of thing most wives like to hear.