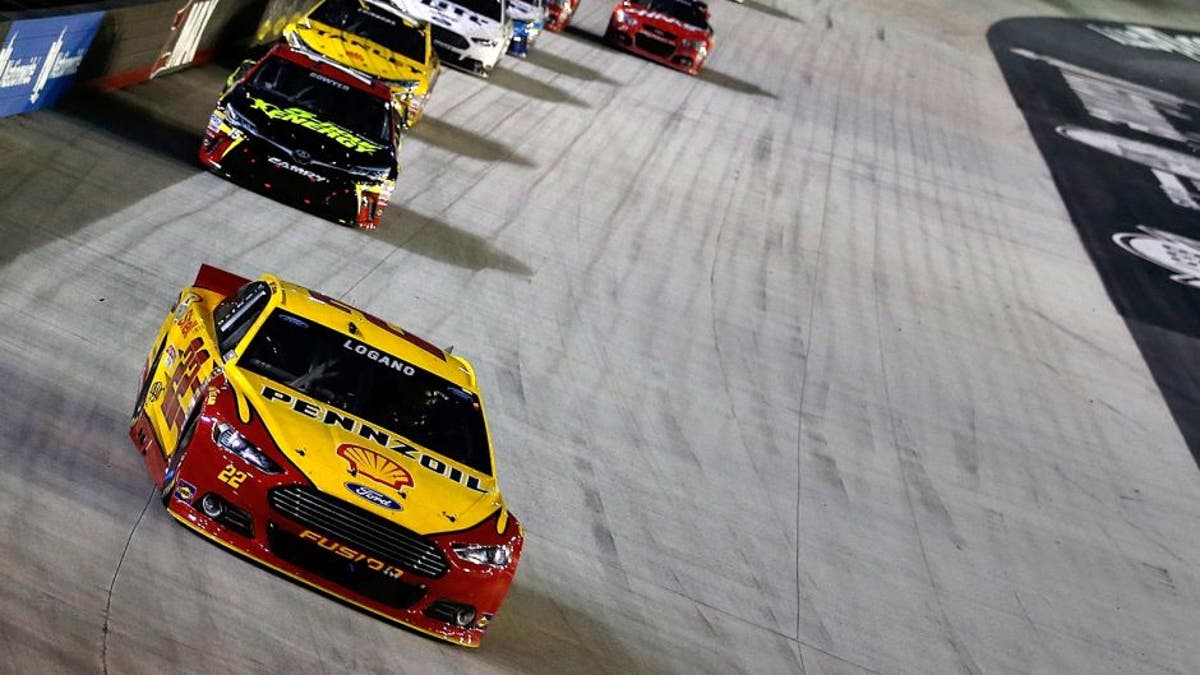 As Joey Logano circled Bristol Motor Speedway, he'd briefly glance in the mirror to watch Kevin Harvick.
Logano had taken the lead on a restart with 64 laps remaining, but Harvick was closing in by using a completely different line. Refusing to get rattled, Logano stuck to what worked for him Saturday and won the Bristol night race for the second consecutive year.
"It was kind of interesting to watch it in the mirror, I was watching him drive in and I was like, `He's going to get me eventually,'" Logano said. "It's so interesting how we ran such different lines and be the same speed on the racetrack. We both found what works for us, and I really thought we were going to be able to pull away because I thought we were really good in the long run and then we didn't pull away.
"It was a very exciting last 20, 30 laps for sure, and neat to be able to get a checkered flag again here at Bristol."
Logano has won on a superspeedway in the Daytona 500, on the road course at Watkins Glen and now Bristol's short track. He has won twice this month as he readies for the start of the Chase for the Sprint Cup championship.
There are two more races before the playoffs begin.
"We are hitting it at the right time, that's for sure," Logano said. "I feel like we are right where we need to be. I can't wait for the Chase to start."
Logano led 176 laps, second only to Joe Gibbs Racing driver Kyle Busch, who led a race-high 192 laps.
"Our team just executed," Logano said. "That's what we did and that's what we do every week. We just try to keep our heads calm and cool and just run our race."
Harvick finished second for the 10th time this season. The reigning Sprint Cup champion has a career-best 17 top-five finishes this year and had his 250th career top-10 finish in 526 starts.
"Obviously, you want to win races, but we're in position and feel like we can get that momentum swing at any point," Harvick said. "Just really excited to be able to run like this at Bristol. This hasn't been notoriously my best racetrack."
Many believed JGR would pick up its 10th win of the season, particularly after Denny Hamlin, Busch and Carl Edwards swept the top three spots in qualifying. Then Busch won Friday night's Xfinity Series race.
Although Busch dominated early, he had faded a bit as the laps clicked off. Then he was hit with a speeding penalty on the final round of pit stops and finished eighth. Edwards led 74 laps but had a tire go flat when he was out front and it cost him two laps.
"Damn," Edwards said on his radio. "All right, we'll still get this. We've got a good car."
He finished seventh.
Matt Kenseth, the winner for JGR in the spring race at the track, had no chance to sweep the season. An engine issue 177 laps into the race ended his night. He finished 42nd and said he had no warning that his engine was faulty.
"They never warn you, it would be cool if they would send you a text or something," Kenseth said. "It broke in the middle of the straightaway -- it had that hop and that noise that it makes when you know you dropped a valve.
That left Hamlin to carry the banner for JGR. He finished a team-best third, but said he just didn't have the same speed as Logano and Harvick. Asked if had expected to see JGR and Toyota celebrating once again, he noted that practicing in the day at Bristol doesn't always translate to the night race.
Still, he said, "Did I expect it? No. But I thought it was probable."
It was shaping up to be a strong night for Michael Waltrip Racing's two drivers, who are both adapting to this week's decision to close the organization at the end of the season. Clint Bowyer has secured his release from his contract and is looking for a new job, along with teammate David Ragan, who has been filling in for Brian Vickers since Vickers was sidelined with health issues.
Both were running in the top-five on a restart when Jimmie Johnson pinched Ragan. As Ragan dipped low to get away from Johnson, Ragan drove directly into Bowyer's path. Bowyer was also hit by Brad Keselowski.
Ragan spun across the track and hit a retaining wall, while Bowyer was able to save his car but still suffered enough damage that he needed to go to pit road for repairs. He restarted 12th, but Ragan was forced behind the wall for extensive repairs.
Bowyer rallied to finish fifth.
"I'm sick to death about that," Bowyer said. "We had two top-five cars and MWR really needed that run."
Still, Bowyer hung on to the final transfer spot into the 16-driver Chase field. With two races remaining to set the field, he's in good shape barring a collapse or another driver bumping him by picking up their first win of the season.
The winless drivers who are currently in position to make the Chase are: Jamie McMurray, Ryan Newman, Paul Menard and Bowyer.